Every young girl who has reached the puberty age or has become sexually active has to visit a gynecologist. The first visit can be embarrassing and fearful at the same time because most girls do not like to share information about private parts and show these areas to a stranger. Do not worry if you feel this way; your doctor will not share any information with anyone. But some confusion is apparent nevertheless. Are there any tips to overcome the fear of the first gynecological visit? 
This article discusses tips to overcome the fear of the first gynecological visit. If you want to get the best out of your first gynecological visit, this topic is for you. 
Importance of First Gynecological Visit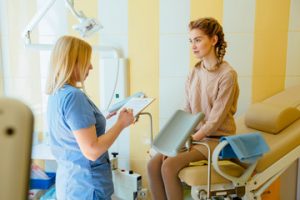 A gynecological exam every on a regular basis can help women, and young girls avoid certain problems and stay healthy. A young girl should visit a gynecologist once she reaches the puberty age. If a young girl becomes sexually active before reaching the age of puberty, she should visit a gynecologist. 
The average age for a young girl to visit a gynecologist is 13 because that is the age when a girl becomes a woman. It is important to visit a gynecologist at this age because the female body goes through a variety of changes at this point. The doctor's job is to ensure that the person is going fine. 
Tips to Overcome Fear of First Gynecological Visit  
A girl or women can do a number of things to avoid stress and nervousness due to the first gynecological visit. Here are the things that can help you if you are going to visit a gynecologist for the first time:  
Check yourself: If you are nervous due to your first gynecological visit, remember that you are not alone in this. You are just like other females, and you do not have a new issue to discuss.  

Take care of your vagina: It is important to note that your doctor will keep all information secret. You should not be worried about beaver shots and speculum moment because it is not as gross as it seems. 

Tell your gynecologist that you're nervous: You can tell your gynecologist if you become nervous during the examination. It will help you, and your doctor avoids things that could make you more nervous. It is important to understand that you should be honest with your doctor and yourself to be healthy. 
Get a mirror and start probing yourself: A woman is likely to feel nervous during the gynecological examination if she does not know her body well. So it is good to take a big mirror and keep examining all parts of your body regularly. It is important to imagine that your body is just like the body of other women. And there will be nothing new for your doctor. 

Learn how to relax, physically and mentally: You can learn some simple techniques to stay mentally and physically relaxed. 

Go to a doctor who comes highly recommended: If your hospital has a male gynecologist and you do not want to see a male gynecologist, you can ask your hospital to arrange a female doctor for you. If they are not able to provide a female gynecologist, you can simply visit another clinic or private practice. 

Have a close friend or family member be with you: It is likely to be nervous if you visit your doctor alone. One way to counter this is to choose a friendly doctor. Moreover, you can take a close friend or family member with you if you feel nervous alone. Your doctor may not allow that person to accompany you during physical examination. 

Schedule appointment in the afternoon after getting free from work: Work life is stressful and hectic sometimes or all the time. It may not feel well to visit a 

gynecologist

 in your lunch break or right after taking off from work. If you are confused or nervous, try to visit your doctor in the evening. 
First Gynecological Visit: Concluding Remarks 
Always be honest to yourself and your doctor because health comes first. This article discussed tips to overcome the fear of the first gynecological visit. If you want to get the best out of your first gynecological visit, this topic might have helped you. To learn more about this topic, you can read more content online or consult a professional. 
ALSO READ: