A fitness tracker is an application or device used to measure fitness-related metrics such as; calorie consumption, distance walked or covered, duration of exercise, etc. It is used to monitor the progress or otherwise of a fitness routine. Fitness trackers can also be called activity trackers. They come in different formats such as a wristwatch, a little device attached to the body, an application or a mobile phone, etc.
It is important to measure fitness activities, as a way to ascertain progress or see areas that need further attention in a fitness journey. However, they're things you must look out for to make the best choice when buying a fitness tracker. Different fitness trackers have their pros and cons, and a lot of things depend on the buyer's preference but generally, below are some of the things to look out for when buying a fitness tracker:
Accuracy
This is one of the most important attributes of a fitness tracker. The data measured by a fitness tracker must be accurate and useable to ensure the user gets the best result. The accuracy of a fitness tracker must be tested and verified before you buy. For most fitness trackers, you can check their accuracy by doing a manual check on some of the metrics such as; step count, distance and heart rate, etc. You can do this by measuring the distance on the ground manually and then compare to the value gotten from the device. This will help you to know how accurate or otherwise the fitness device is.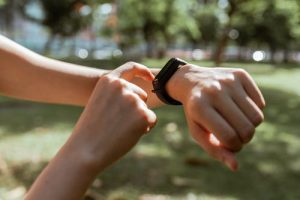 Ease of Usage
A good fitness tracker should be easy to use and understand. This is an important factor because a lot of people do not understand the common fitness jargon. An easy-to-understand fitness tracker must use everyday relatable terms so everybody can understand and use it. A good fitness tracker should be made to suit the need of both fitness newbies and experts. Therefore it should be easy to use, in such a way, that anybody can use it just by studying the user manual.
Battery life
As a device, a fitness tracker can only be as good as its battery life. Before buying a fitness tracker, you must ensure the battery life is durable enough to fit your fitness training needs. It will be practically useless to buy a tracker you can't use because the battery is always running down. For the best performance and experience, you must opt for a fitness tracker whose battery life meets expectations during usage. It is also important to check how long it takes the battery to refill when it drains, these are good metrics to ascertain battery quality.
Water resistance
Since most fitness trackers come in the form of a wristwatch and are usually worn during workouts. It is important to check the water-resistance of the tracker before buying. You can check the water resistance by wearing the tracker during a sweaty workout and see if the tracker malfunctions. You can also submerge the tracker in water and test for any form of malfunction.
Good Syncing
Most fitness trackers come with an application that is installed on a mobile device or computer. The data generated from the tracker is expected to synchronize with those installed applications for a better experience. It is important to ensure this function is seamless before purchase.
Other factors depend solely on a person's preference and interest.