Pilates is a wonderful form of low-impact exercise that is designed to be inclusive for everybody. Pilates was originally created by a physical trainer named Joseph Pilates, who designed a series of core strengthening exercises to help war vets and dancers rehabilitate their bodies. While it is often confused with yoga, the two practices are actually fully distinct, although they do work great together.
Today, Pilates is soaring in popularity, and for good reason! Pilates movements target the core, thus improving fundamental posture, strength, muscle control and flexibility in a way that provides lasting benefits that you will feel on a very real level in your day-to-day life.
Mat Pilates Versus Reformer Pilates: What is the Difference?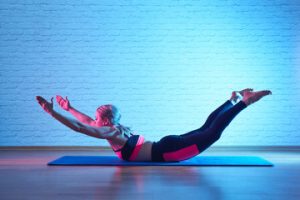 There are two popular ways to practice Pilates, with or without equipment. While numerous props may be used to target particular muscle groups during Pilates training, the staple piece of equipment is an innovative exercise machine called a Pilates reformer. However, most people who are getting started with Pilates will want to begin with basic mat Pilates.
During a mat Pilates class, participants will learn how to build the foundations of their future Pilates practice. The goal is to learn to achieve the correct postures without requiring assistance. The body itself is the primary counterweight that is used to strengthen the body and build flexibility.
While props may occasionally be integrated into a mat practice, the point of this type of practice is to learn how these motions feel on the body as it is. As such, novices will be able to transfer their postures into day to day activities like walking, running or hiking.
The fact that mat Pilates is the best place to start doesn't mean that it will be easy. Over time, people tend to become incredibly ingrained in incorrect muscle movements, and training the core muscles of the body to move correctly is no simple feat.
Once you get a grip on the basics, you can move onto a reformer-based Pilates practice. Rather than leave the mat behind, you will learn how to creatively integrate props into your constantly evolving practice. Building off the foundations learned on the mat, the reformer gives you the targeted control to level-up your practice into whole new realms of possibility.
Getting Started
When it comes to nailing the basics, Private Training is a fantastic option.
The reasoning for this is pretty simple. Everybody is different, and you are going to get maximum benefits out of a practice that is built for you. Since these instructions come complete with a full, free Private Training Assessment, they are an ideal place to start a Pilates adventure off on the right foot, so to speak.
The one downside to private instructions is that they are expensive, so many beginners might want to start out with an inclusive introductory group class instead. Keep in mind that anybody who has restricted movement due to an injury, recent surgery or physical condition will want to stick with the private lessons so that they can better target their movement goals.
Meanwhile, for those looking for the perfect group environment to get started, the Club Pilates Intro Course is the perfect place to do it. Designed to be totally inclusive, and no matter what your body type, you can count on walking out of there feeling your best.
You only have to give up regularly an hour of your time to start seeing and feeling real changes in your body. You can count on each instructor having more than 500 hours of comprehensive training so that you know you will always be in the best hands when getting started on your foundational Pilates practice.
Evolving Your Personal Practice
Once you start getting a handle on the basics, you can move onto more advanced cardio boosting classes, like, for or example, the heart-pumping F.I.T. Course and the uber-relaxing Center and Balance Course, or start evolving and specializing your practice with targeted Reformer Pilates classes.
The Reformer Flow class provides ideal all-levels instructions that will take your Pilates practice to a whole new level, allowing you to be really comfortable with the reformer and all the wonderful possibilities it has to offer in a fun and creative context.
The Cardio Sculpt class will teach you how to safely use the jump board on the reformer to maximize your cardio workout. The Exclusive Club Pilates Control class will teach you how to use a reformer and other essential props like springboards, fitness balls, free weights and gliding disks to tone up those legs and glutes. The Restore class will show you how to use the reformer to relax and renew, or you can level up your physique with the trilling Suspend suspension training class.
It's your journey, so get out there and explore!
Taking It All Home
Once you really start to understand how the myriad of ways that Reformer Pilates can work for you, it's time to really start making the most of your practice by building an at-home routine.
Taking your practice home is not only the best way to make the most of your time, targeting the muscle groups that you want to target, and perfecting the moves that you really want to perfect, but it is also one of the smartest ways to save big in the long run. This doesn't mean that you won't want to head out for a public class every now and then, but rather, use the occasional professional class as inspiration to keep creatively evolving your at-home-routine.
Pilates Direct has all the best-selling equipment that you need to build an at-home pilates practice that is designed for you. Once you purchase your own Pilates reformer and start buying the props you need to level-up, there is no turning back!
Author's Bio:
Giulia Ramsey is an avid advanced Reformer Pilates practitioner who has studied in Germany and the U.S. Her fitness mantra is the Joseph Pilates quote, "Pilates is complete coordination of body, mind, and spirit." Giulia is CMO of

Pilates Direct

, the authorized North America distributor for STOTT Pilates, Peak Pilates, and Elina Pilates equipment and reformers.