As a man grows older, the hormones responsible for hair production begin to reduce, leading to a loss of hair on the scalp, otherwise known as male pattern baldness. Male pattern baldness can also be caused by diseases. It is medically called androgenetic alopecia because it is mostly an inherited trait. The biological process of male pattern baldness can not be stopped, however, they're things that can be done to help slow down the process, as well as correct the effects. This article discusses the causes of male pattern baldness, and some useful hair growth tips for male pattern baldness.
Causes of Male Pattern Baldness
The main cause of male pattern baldness is hereditary. The hormones responsible for hair growth are called androgens.
Androgens regulate the growth cycle of each hair  on your head. In male pattern baldness, the hair growth cycle deteriorates, and the hair follicle shrinks, leading to shorter and thinner strands of hair. Finally, the growth cycle for each hair stops completely, and no new hair grows in its place.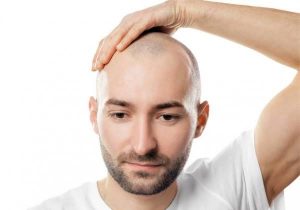 Hair Growth Tips For Male Pattern Baldness
Below are some helpful tips for hair growth in male pattern baldness:
1. Use of drugs
They're medications available to mitigate the loss of hair as well as help the hair to grow. A drug called minoxidil can be used to stimulate hair growth by rubbing it on the scalp of the balded spot. Usually, it takes some months for the effect of the minoxidil drug to be seen, but it's a great way to keep the hairs coming when faced with male pattern baldness. Another drug that can be used to boost hair growth is called finasteride, it is an oral medication that slows down the speed of hair loss by working on the hormones responsible. Just like every medication, minoxidil and finasteride have side effects, this must be considered while contemplating this choice. You can also get some supplements for hair loss. Nonetheless, you should always opt for the best hair growth supplement. Do your due diligence and consult with a healthcare professional also.
2. Stress reduction
Over 50% of all middle-aged men all over the world are said to be facing male pattern baldness. It has been proven that genetic inheritance is the main cause of male pattern baldness, but stress has also been discovered to be highly responsible for fast-tracking the process. To boost hair growth, stress must be cut out of the body. Listening to music, meditation and exercise are ways through which we reduce stress and boost hair growth.
3. Hair transplant
This is a medical procedure that involves the transplanting of hair follicles from the region on the scalp where they're full to the balded areas to regain uniformity. There are two main types of hair transplant; follicular unit transportation: this involves taking the skin in the part of the hair with plenty of hair and then carefully replacing the follicles in the balded areas. Follicular unit extraction: this involves direct transplantation of hair follicles from the scalp to the affected balded areas. Hair transplants are usually expensive.
4. Nutritious eating
Eating a balanced diet is a great way to boost hair growth when faced with male pattern baldness. The nutrients contained in the food we eat greatly affect hair growth. Usually, a balanced meal containing fruits, vegetables, unsaturated fats, and proteins, will significantly boost hair growth. When faced with male pattern baldness, it's advised to incorporate foods rich in iron, proteins, etc., accompanied with the drinking of plenty of water.
5. Scalp massage
It has been discovered that massaging the scalp of the hair daily over a long period will improve hair growth in male pattern baldness. Massaging the hair helps to stimulate the hair follicles acting as a form of rejuvenation which in turn increases hair growth.
Additionally, you should wear a durag or hat to boost your hair growth. Durags are great for maintaining hair texture, moisture and protecting the hair from sun damage. You can also get a headband from hoorag.com, they have amazing bandanas and hats.
Bottom Line
Male pattern baldness is a condition that accompanies aging in most people, but just like in everything, lifestyle changes can seriously mitigate adverse conditions of male pattern baldness. For instance, quitting smoking will help as well to improve hair growth.