When we talk about health and wellbeing, some of the most common themes tend to revolve around fitness and exercise, healthy eating and dieting, and tips on taking our bodies to prime working condition. But, while those are all important issues, there are equally key health issues that we may not be as comfortable talking about. 
One of those is our reproductive health. In fact, a study has found that almost half of people from Britain (48%) would not go to their doctor to discuss an issue with their genital problems, sexual or reproductive health. This has been replicated in the US and Asia, as well as been observed in Nigeria. 
And yet our relationship with our reproductive health could have wide-reaching consequences for our overall wellbeing. According to the British Medical Association, "reproductive wellbeing for the non-pregnant woman is vital both for the woman herself and for the protection of future generations." So what does this mean for the large number of Brits who are reluctant to speak to medical professionals about this important issue? A survey of 2,000 Brits revealed the following:
Almost half of the Brits don't go to their GP for health answers
Almost half of Brits (48%) wouldn't go to see their GP if they had symptoms relating to their reproductive or sexual health. 
22% of people from Britain say they would prefer looking online for answers, with 34% saying they'd go to the NHS website for answers. More worryingly, almost 1 in 10 of Britons (8%) wouldn't attempt to look for answers at all (this number rises to 9% for men and drops to 7% for women). Other options the British public would rather turn to include dialing the non-emergency hotline (12%), asking their family or partner for help (10%), or asking their friends (6%).
Where patients are uncomfortable talking to doctors about their reproductive health, it's promising to see that they are willing to ask the people close to them for advice. However, relying on friends and family who might not have the medical background or expertise to diagnose symptoms accurately can be dangerous. 
1 in 5 Brits find it difficult to speak to doctors about their reproductive health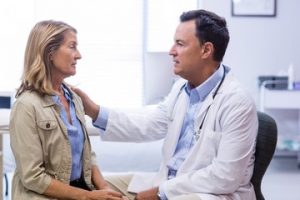 While a concerning 20% of Brits say they find it difficult to talk to doctors or medical professionals about their reproductive health (including sexual health and fertility), another 1 in 10 say they "don't feel heard or believed" when they do talk to doctors. Plus, almost 1 in 5 women (18%) and almost 1 in 25 men (14%) say they're too busy with work, family or children to take the time to see a doctor about their reproductive health. 
Unfortunately, this delay in treatment has the potential to snowball, and patients may find themselves facing more serious (and more difficult-to-treat) issues the longer they leave it unaddressed. Doctors and medical professionals need to do more to make sure patients feel comfortable coming to them for advice. In the meantime, creating a safe, open, and more communicative space in society at large could be invaluable for helping us all talk more about the topics that have traditionally been taboo.
Over a third of Brits are worried or stressed about reproductive issues
The study also discovered over a third of Brits (35%) admit to being worried or stressed about issues relating to their reproductive health. There was also a gender split to this data, with almost 1 in 5 women (19%) admitting to being "quite worried", with 1 in 6 men (16%) stating they weren't educated enough about the issues relating to their reproductive health to be worried or stressed in the first place. By increasing education and communication – in medical centres and in schools and the workplace – we could all do our part to encourage each other to come forward about these important issues.
1 in 5 Brits discontinue medical treatment because of issues at the doctors
Another statistic uncovered by the study was that 1 in 5 Brits (20%) had stopped seeking official medical treatment for their reproductive health issues because their issue wasn't resolved satisfactorily by their doctor. Over half of them (53%) also said they'd had to undergo repeated trips to the hospital or to their doctor after not being able to resolve their issues in the first few visits. 
This included almost 22% of women – as well as a worrying 35% of 25-34-year-olds of both genders – who said they had completely given up relying on medical professionals for help with their reproductive health issues specifically because the problems were not resolved to their satisfaction. 
Considering the difficulties both men and women face in getting a proper diagnosis for specific conditions – particularly those traditionally associated with the opposite gender – it's clear more needs to be done to improve patient care for all.
If not, we could potentially see more reproductive cancers and untreated STIs, especially if patients are increasingly moving away from seeking help from doctors.
More needs to be done to regain trust in doctors – including bringing hospitals, local medical clinics, and emergency services up to par – so more of us feel empowered, comfortable and engaged when it comes to our reproductive health.