Nothing beats the tiredness out of muscles than a good massage. When we talk of massage, there are many types of massage to choose from (more than 200 types), but the most popular ones ate the Swedish massage, hot stone massage, reflexology massage, aromatherapy massage, stomach massage, sports or remedial massage and deep tissue massage. Out of these, most come under relaxation massage barring the remedial massage.
One might think a massage is a massage – whether it's for relaxation or remedial. Well, to start with, relaxation massage is to distress your body after a tiring week or even if you are feeling like some tender love and care (TLC) is needed by your body. On the other hand, remedial massage is for the treatment of chronic muscle injury or disease.
What Is Remedial Massage?
Whether you are a sportsperson or a college goer, any injury that is sustained by the muscles tends to leave a rather longer impression on you in terms of movement and flexibility. Muscle conditions like sciatica, spondylitis, carpel tunnel, and even neck injuries are often sorted with the help of remedial massage. To define remedial massage, it is a complementary massage that is used for rehabilitation purposes and to speed up the body's healing process and to relieve the pain and tension in the muscles and bones.
Remedial massages can only be performed by the trained and certified masseuse. The aim of remedial massage is to locate the point of origin or the pain and target that point so that the pain does not spread. In the hands of the inexperienced, the remedial massage session can be more damaging than helpful.
What Are the Health Benefits of Remedial Massage?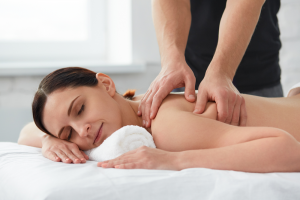 This therapeutic massage is categorized under medical remedies and is often prescribed by doctors, especially if the patient has an identified medical condition requiring regular remedial massage.
The Top 5 Health Benefits of Remedial Massage Are:
1. Reducing Stress
Many of our muscles problems arises due to the constant stress we put ourselves under. The tissues and muscles kneading, and treatment helps the blood flow become well. It also affects the flow of endorphins that gives you the feel-good sense and reduces cortisol that causes stress. Reducing stress has to be addressed to cure muscle pain, and remedial massage does that.
2. Correction of Posture
Another reason for the spinal problem is incorrect posture. While it cannot always be kept in check thanks to the desk job, most of us are subjected to, opting for remedial massages often addresses the issue. Techniques that lengthens and strengthens the muscles and tendons of your body, especially that of the back and neck region gives you a better posture and more stability. If you're looking for a great way to improve your posture, then remedial massage is right for you.
3. Immunity Boost
Part of the benefit of better blood circulation is a better immunity system and metabolism, which makes you healthier and stronger. Since the aim of remedial massage is to speed up the healing process of the body, the deep tissue massage, lymphatic drainage, and targeting cytokines play a major role in boosting the body's defense system.
4. Improves Concentration
Sleep is essential for an overall healthy body and mind. To improve concentration, you need a fresh and clear mind that is possible only if you have had a decent sleep at night. Stress and incorrect posture are why people do not get the best rest from sleep that weakens immunity and mind functioning. This issue is addressed by remedial massage as it helps you relax and get proper sleep.
5. Improves Flexibility
Overuse of muscles often causes muscle fatigue that leads to stiff joints and body parts. When left untreated, this can grow to serious muscular or nervous problems like sciatica, arthritis or cerebral palsy. The therapy and massage help you to loosen up the muscles that will aid in better flexibility and mobility of the body.
Suffering from some chronic illness or have sustained a muscular injury recently suggests that it is better you get in touch with your doctor, the doctor will provide with a recommendation for a certified remedial massage therapist. These therapists will guide you through the healing process by enquiring about your lifestyle, finding out the trigger points, and curating a massage routine that will be ideal for you.