Digital Marketers are one of the most enjoyable professions in the world today. Most digital marketers or bloggers get to work from almost anywhere, set their own hours, and also build and manage a business digitally. However, a great digital marketer is a healthy digital marketer. Yes, health is wealth after all. So today, you will find out some health tips for digital marketers, which are equally health tips for bloggers.
Like I mentioned earlier, digital marketers are awesome people. They make their living from the internet, which gives them convenience that no other profession can get. Nonetheless, they are also some drawbacks to being a digital marketer. For one, digital marketers get to spend long hours on the internet. Another is having to sit in front of a computer/electronic device all day. Doing this doesn't just destroy your spine, but it also leads to various unhealthy behaviors. Why do digital marketers need to stay healthy? What are these unhealthy behaviors? And above all what are the vital health tips for bloggers and digital marketers?
Why do Digital Marketers Need to Stay Healthy?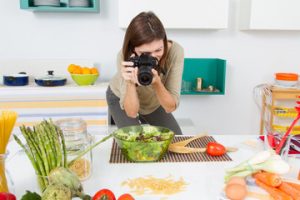 Digital marketers, social media managers, and bloggers all need to stay healthy always. Many online marketers think about making more money from the internet and give little or no focus on their health.
Some reasons why they need to pay more attention to their health include:
• A recent study concluded that excessive use of the internet would impact negatively on the physical and mental health of internet user.
• Yet another study from UC San Diego and Yale showed that people who clicked on four times as many links as the average social media user, or who liked twice as many posts, had worse mental health than the average internet user.• A lot of digital marketers spend most of their time sitting, and there are adverse effects of sitting for prolonged periods. Sitting for long hours leads to back, shoulder and neck pain. It even puts more pressure on the spine than standing.
• Most Bloggers live a sedentary lifestyle, spending a huge chunk of their day on the internet. A sedentary lifestyle will increase your risk of heart disease, obesity, diabetes, stroke, high blood pressure, and high cholesterol levels.
• Staring at the computer screen for a long time will lead to a condition known as computer vision syndrome. This condition can lead to two major eye problems. First, is dry eyes, caused by a lack of blinking. Second, is eyestrain due to the brightness or glare that comes from the screen.
I am sure that you now understand the need to stay healthy as a digital marketer. Now, how can you stay healthy and make money from the internet? Read this beneficial health tips for bloggers and digital marketers to find out.
Health Tips For Digital Marketers
1. Practice meditation daily
Meditation is one of the healthiest habits of all time. Taking 10-20 minutes of your time daily to meditate, can help you more than you imagine.
Meditation is a healthy practice that benefits the mind and body.
Meditation reduces stress levels and combats anxiety. It also helps you to stay creative.
READ: How To Develop Your Daily Meditation Practice
2. Maintain a healthy posture while working
Keeping a great posture will help you avoid issues like back, shoulder and neck pain. To maintain a healthy posture when sitting, you need to:
• Sit up and keep your back your shoulders straight. Make sure your buttocks should reach the back of your chair.
• Keep your body weight evenly distributed on both your hips.
• Adjust the height of your chair and workspace so you can sit up. Rest your elbows and arms on your table or desk, so that your shoulders are relaxed.
• Avoid sitting in the same sitting position for more than 30 minutes.
• Stretch your body occasionally, and bend your neck once in a while.
Even if you lie down to work, you need to keep a good posture too.
ALSO READ:
3. Protect your eyes
How can you protect your eyes while spending a lot of time on the computer? First, adjust the contrast of the screen's brightness to avoid straining your eyes.
Secondly, Don't make use of your laptop in a room which has poor lighting or no lights. Keep your eyes 12-20 inches away from your computer screen.
Finally, you can choose to make use of glasses to protect your eyes.
ALSO READ:
4. Maintain great mental and social health
Social health is an excellent aspect of healthy living and one that should never be ignored. Spending a lot of time on the internet can rob you of valuable time you can use to interact with people and improve your social health.
Set a time where you can talk to people, physically. Have a few minutes to chat with someone and clear your head. Play a short board game with someone to unplug and keep in touch with the real world.
Some great mental health tips for social media managers and marketers is to:
Practice self-care
Set limits and regulate screen time
Read jokes and listen to uplifting music.
Control comments
Follow social media accounts that makes you happy, inspires or motivates you.
4. Stay active
Staying active as a digital marketer will help you avoid living a sedentary lifestyle. It reduces the risk of cardiovascular diseases, obesity, diabetes, and so many other health problems.
Staying physically active is a great way to stay healthy and keep fit. Exercising a good way you can stay active, and they are many ways you can also exercise.
How can you find time to exercise as a blogger? Take 30-40 minutes in the morning to do a light aerobic workout before you start working. There are even some exercises that you can do while sitting. Engage in a physically challenging sport once a week.
ALSO READ:
5. Eat healthily
It is very easy for people who spend excessive time on the internet to eat unhealthy foods.
Working for long hours on the computer will lead to buying junk and fast foods regularly. Unhealthy eating is one of the silent killers today. To live a healthy life as a digital marketer, you need to eat the right food at the right time. First, replace junk snacks with fruits and vegetables.
Limit the number of fast foods you consume and cook more. Yes, cook more. Personally, I find that cooking in between blogging gives me a sense of accomplishment and helps me to work more efficiently.
So, choose healthy food and regularly hydrate yourselves.
6. Sleep well
Sleep is an essential habit that must be given utmost importance. Getting quality sleep involves sleeping for 8-9 hours daily.
If you avoid sleeping, it could lead to stress and a lot of other health issues. If you have difficulty sleeping at night, you can try to sleep well during the day.
ALSO READ:
7. Take a break
Digital marketers should take breaks too. Take your time to unplug and take a break from writing, researching and posting. Take a break from your screen and social media.
I use the weekends and the evenings to relax and take breaks, you can do that too. Schedule your posting or get someone to manage things for you, while you take a break.
Go on a vacation and have fun with your friends, or loved ones. Taking a break will help you to avoid stress and becoming overwhelmed with anxiety. It will also help you to stay creative.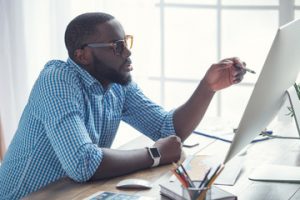 Conclusion
Being a digital marketer is incredible, but being healthy digital marketer is even more remarkable. You get to work from home, make a living and above all stay healthy.  This health tips for bloggers and digital marketers will ensure that you stay well. Remember that a wealthy person is a healthy person.
Thanks for reading.
FIND OUT:-
How I Became A Succeesful Health and Fitness Blogger