Being a retired senior affords you a luxury of things most of the younger folks don't have access to. You have the luxury of time to engage in your favourite activities and so on. As a matter of fact, time itself is a piece of luxury many people don't have. However, some seniors and aged people may have health problems that make travelling difficult. Nonetheless, there are some health travel tips for seniors you have to know.
These health travel tips for seniors are meant to help you avoid medical emergencies during the course of your travel, and help you enjoy your trip.
1. Take Your Medicines Along
If you're traveling, don't forget to bring your medication with you in your hand bag! You should never be certain that it will arrive to you in pristine condition and on schedule. All drugs should be packed in your baggage, and extra dosage details should be brought together in case you require a replacement while away. Place all of your pill bottles in a large resealable bag to keep them and dry. Since bags can get lost during travel, do not keep all medications in one place. 
2. Replace Your Mobility Aid
Think about changing to a more trip friendly form of your mobility assistants, such as a crutch or walking stick, for your vacation. Folding canes and portable travel walkers are examples of flexible aids equipment for travel. For the rather confined seating found on lengthy car trips or airplane rides, being able to limit the amount of space your mobility device takes up while you are not using it is a necessary.
3. Download Your Airline's App
Have you ever find out that traveling makes you more stressed? By installing your airline's app to your tablet or smartphone, you'll have one less reason to be concerned about, such as taking note of your boarding pass or checking to see what gate you're at. All major airlines have an app that allows you to check your track flight times, flight status, check gate numbers, and a whole lot more.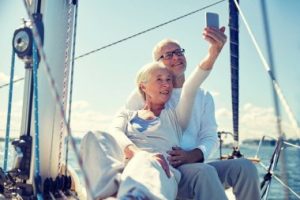 4. Pack Healthy Snacks With You
If you're taking a plane journey, you can carry your meals with you. The majority of foods are permitted by security personnel. This allows you to eat healthy things like whole grain chips, carrot sticks, nuts, dried fruit and cheese sticks while avoiding the sugary and high-sodium foods found at many airport vendors, and gas stations if you're driving. If you avoid fried and fatty snacks before a journey, you will not feel tired or bloated while on the road.
5. Exercise Regularly
When you go on a journey that takes you away from home, such as a cruise, it's tempting to put fitness on the back burner. It's critical to stay active while traveling, especially if you find up eating out more and filling your diet with fattier, more luxurious meals than you normally consume. It's simple to do some exercise when traveling without going to the gym: walk up and down the stairs instead of taking the elevator, go swimming, put on your dance shoes and head to a social club; the possibilities are unlimited.
6. Plan Ahead
Do you have any unique nutritional requirements to consider? How do you go around if you have limited mobility? Take a proactive approach by calling your airline and the hotel where you will be staying to inquire about mobility help and accessibility, as well as food alternatives for a variety of dietary requirements. A simple phone call can go a huge way toward ensuring your security and wellbeing while traveling.
7. Have Your Medical Alert Handy
Medical alert systems can help with emergency monitoring when traveling, so as to ensure personal safety, and and to summon emergency medical personnel.
Seniors with allergies or unique medical problems should always have a medical alert bracelet or keep a medical alert card in their wallets or bags. The medical alert card should state all the allergies and special medical conditions that a senior is suffering from, as it can be useful doctors and pharmacists in foreign countries.
8. Consult With Your Doctor Before Travelling
Aged travelers who have serious health problems should consult with their personal doctors before they even decide to travel. Your physician will inform you if there is a chance that their conditions will recur during travel. Your doctor can also tell you about the common diseases in the foreign area you which to travel to, and how to avoid them.
Final Thoughts
One of the finest ways for seniors to learn something new and keep in shape is to travel! However, as a prudent elder, you should make sure that you have prior instructions in place before embarking on a long journey. Take a moment before you leave to review a living will and enter healthcare ID data into your cellphone or suitcase so it's accessible in an urgent situation. We hope this article satisfied your curiosity about health travel tips for seniors.