Riding a motorcycle is cool and fun, right? At least, that is what we see from riders. But truth be told, riding a bike can be very dangerous. Thousands of riders across the world die or get permanently disabled from road accidents.
Common causes of motorcycle accidents include speeding, drunk riding, bad weather, car accidents and unfortunate encounters with drivers. While we cannot prevent some motorcycle accidents, others are caused by human negligence and carelessness.
Hiring a Motorcycle Accident Lawyer
If you get into a motorcycle accident because of another driver's negligence, you deserve compensation. Injuries from motorcycle accidents are expensive to treat and will leave you financially drained.
To get rightful compensation, you should hire a motorcycle accident lawyer. Insurance companies label riders as careless and risk-takers. They will try to put the accident blame on the biker. Without proper representation, the insurance company will reduce the value of your claim or, worse, lose the case.
While we encourage other road users to watch out for riders, your safety on the road is your responsibility. 
4 Safety Tips to Follow When Riding a Motorcycle
Below are motorcycle safety tips to help minimize dangerous encounters on the road.
1. Use the Right Bike
You are safe using a bike within your riding capabilities. If you are a new rider, take time to identify your riding needs and preference before investing in a bike. Do you want it for weekends only? For road trips? Or for commuting to work every day?
Another thing to consider is your height and body size. With your size established, it will be easy to check out comparable bikes from many brands. Some people decide on their bike based on looks or name only, but there are major safety features to consider before saying yes to that beautiful bike.
2. Gear Up
Never step on your bike without your full riding gear. A three minute ride could leave you dead simply because you left your gear at home. To protect your head and face, always put on a full helmet. I know the half helmet is cool and is not hot, but it will not give you the protection you will get from a full helmet.
Your riding boots, gloves, riding pants, reinforced leather jacket, elbow and knee pads, and safety glasses should never be left behind. It doesn't matter if you are just getting groceries from the nearest store; gear up!
Fatal motorcycle accidents happen at low speeds as well, and only your gear could save you from breaking your skull.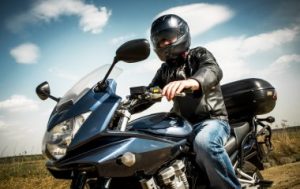 3. Be Seen
Let other road users notice you. Drivers are trained to see other cars and not you. Therefore make yourself seen. Your riding gear should be bright and noticeable from a distance. If your gear is black or brown, invest in bright reflective covers. Many riders are hit because the drivers can't see them.
4. How Is the Weather Today?
As a rider, you must always plan depending on the weather. Studying the weather and possible changes allows you to wear the right gear or use another means of transport.
Take a look at the weather forecast at night and confirm the same in the morning. You will be required to change routes often, depending on what the weatherman is saying. Flexibility and planning are essential for riders.
Safety Is Your Top Priority
If you do not protect yourself on the road, you will be hit and probably killed. Many times drivers will say that they hit a rider because they did not see them. Assume that you cannot be seen and invest in making them notice you.
Learn defensive riding as well. Do not only focus on the front, but scan your side mirrors all the time. Being alert and aware will help you avoid possible dangers.