Getting your toddler to eat healthy food is what you, as a parent earnestly desire. Toddlers need healthy, yummy food to enhance their growth and development. Most Nigerian parents opt for everyday cereal products and brands for there little ones. However, there are some healthy Nigerian foods for toddlers, parents should know.
These healthy foods are meant to help your toddler grow healthily.
Nevertheless, getting your toddler to eat the right food and consume healthy foods can sometimes be challenging for you as a parent. The case is especially true when your toddler is picky about what to eat.
The reason for this struggle is because sometimes, toddlers between the ages of 1 to 4 years are still learning to adapt to the new and varying tastes of different foods.
Regardless of your toddler's picky eating habits, you have to make sure they are eating the right food and getting all the necessary nutrition their bodies need to grow and stay healthy.
Keep in mind that toddlers are still in their early years if development, and thus, they will require proper nutrition in order to develop healthy bodies.
Therefore, you should regularly provide them with foods that are very rich in vitamins, minerals and other nutrients.
Because adequate nutrition is one of the keys to living a healthy life.

10 Healthy Nigerian Foods For Toddlers
1. Akamu (Pap)
Akamu, Ogi or Pap as it is fondly called is made from wet cornstarch. It is fermented cereal pudding, usually made from maize. It is prepared hot, with milk and sugar. Akamu is excellent for babies and toddlers; it is easily swallowed and easy to prepare.
The health benefits of akamu for babies is that is easy to digest, it is rich in potassium and sodium and is also a great source of energy.
Akamu can also be taken with a variety of other foods, like beans, akara, fried yam or plantains. Akamu can be taken as breakfast or as dinner.
2. Abacha
Abacha is also known as African salad or ugba. This tasty Nigerian meal is native to the Igbos in Nigeria but can be enjoyed by all including your toddlers. Abacha is made using dried shredded cassava and can be eaten as a light snack or a full meal. It is eaten with vegetables or anara leaves, fish and garden egg (anara). The anara leaves are rich in beta-carotene, ascorbic acid, and calcium.
It also has anti-inflammatory properties which make it perfect for your growing child.
3. Avocado Puree
Avocados are a very healthy fruit. The health benefits of avocados consists of many beneficial things for toddlers.
When preparing avocados for your child, you need to cut the avocado, then use a spoon to pound the avocado into a puree or use a blender or food processor.
When avocado is mashed into a puree, it is smooth and creamy. Hence it is a perfect food that will be readily accepted as baby begins solids. Babies need lots carbohydrates, and fats as well as proteins for their growth during the first year and down to their second year.
Avocados are also perfect nutrition for your toddlers because it is easy to digest and its nutrients are easy to absorb.
4. Bread
Bread is great energy giving food. It is very rich in carbohydrates and is one of the most frequently consumed foods.
Bread is also rich in fibre that helps with digestion. Another health benefit of bread for babies is that it contains carbohydrates, and these provide your babies with energy, that they will need to play on a regular basis. Lastly, it contains a high amount of calcium and iron, and these two are beneficial for your child's teeth and bones, as well as helping in the production of red blood cells.
5. Beans
Proteins are required for growth in children and beans is highly rich in proteins. Beans are delicious and very nutritious. This meal provides all the vital nutrients for a growing child, including protein, fibre, folate, magnesium, iron, and potassium. Researchers and child feeding experts have always recommended beans for child development.
6. Eggs
Eggs are another rich protein source. Egg yolks are great foods to give your children. They help with brain development and provide many crucial vitamins and nutrients for toddlers. However, you should be wary to detect egg allergies in your children. Egg yolk allergy is a very rare medical condition. So you need to know when to include eggs in your children's meal. 12 months and above is preferable.
7. Vegetables and Soups
Vegetables are a powerful food for healthy living. If you are looking for healthy food for your toddlers, then you really need to add vegetables to their diet. Vegetables contain all the essential vitamins, nutrients and minerals are necessary for children to grow and live healthily. Vegetables boost their immune system and encourage brain development. You can find out some healthy Nigerian vegetables you should give to your toddler.
You can also give your toddlers some healthy Nigerian soups. Delicious soups like oha soup, Banga soup, egusi soup and ogbono soup are perfect for your toddler. They can eat it with eba or many other healthy Nigerian swallows.
8. Rice
Rice is a widely consumed food. Your toddlers would love rice because it is delicious and can be eaten with various stews.
What the health benefits of rice for toddlers includes that is an excellent source of B complex vitamins, a source of high energy, it contains protein, it is easy to digest.
Rice is also a low allergy food.
9. Fruits
Fruits are essential for everyone to remain healthy. They are even more essential for toddlers. Fruits are simply delicious and naturally nutritious, that's why your toddler will love them. The healthy fruits for toddlers include:
• Garden egg
• Watermelon
• Berries
• Apples
• Bananas
• Oranges
• Lemons
• Mangoes
• Peaches
• Grapes
• Pineapples.
You can make most of the fruits into a puree Tobias the consumption. Additionally, you can prepare fruit juices for them to enjoy.
10. Milk
There are lots of healthy drinks you can provide to your toddler, but one of the best drink is milk. After your toddler has abandoned breastmilk, he or she will still need milk in their diet.
The milk that your toddler should consume should contain nutrients they receive from breast milk to remain healthy.
They need to consume the proper amount of fats, vitamins and minerals. Almond milk, cow milk and coconut milk are healthy types of milk for babies.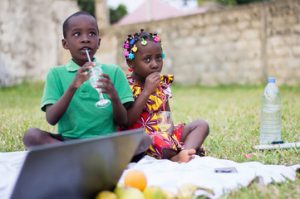 Remember to give your toddlers clean and hygienic foods. Wash the food items properly and prepare them well.
The healthy development of your child depends on what you feed them with. These healthy Nigerian foods for toddlers will aid your toddler to grow into a healthy teenager.
ALSO READ: