Afraid of getting lost in the woods? Be prepared to endure with these wilderness survival tips
Everyone imagines the trip to be safe and amazing, is there any guarantee?
While gazing those trees and admiring the wild, you can easily find yourself lost, and in the next moment, you panic.
Traveling is essential as it freshens up the soul and helps you to deal with the hectic life again. But getting lost is not a part of the plan. So how can you remain strong and survive the jungle?
Well, it is not easy but not impossible either. All you need is willpower and these wilderness survival tips. Let's get started-
6 Wilderness Survival Tips You Must Know
1. "Panic" Is Not the Solution
Don't let the word "Panic" approach your mind because it will ruin any possible chance to skip the jungle. Always remember your mind is the tool that will help you with things in the woods. Stay calm as much as possible and keep saying positive things such as "everything is going to be okay, you are just taking a ride through the woods."
2. Stop and Inspect the Surroundings
The next task is to stop right where you are. Look all around and observe the place. How does it look, does it seem safe and how far it possibly can be from the road? Take your map out and try locating the place. See if there are any nearby places to receive help. Find a shade first if it is hot and then concentrate on observing the place.
3. Explore the Backpack and Find the Essentials
The next one among the emergency survival tips is making use of your backpack. Your rucksack is always your best friend on the journey. It is time to find the treasure, unlock your backpack and see what you have got. You may find a trekking knife, flipper knives, matchbox or lighter, compass, water bottle, water purifying tablets, first aid kit, sleeping bag, and other life-saving things. Remember the last location you were aware of and use your compass to get reach again.
4. It Is Time to Search for Water
It is true that you can survive without water for three days, but it is not an option when you have to find your way back. Dehydration will make you even more depressed and tired, so the next task is to search for water. Identify the signs all around you, see if there are animals or birds and follow them as they can take you to the sources of water and food. Later, you can use the purifying tablet so you can drink it.
5. Find Food and Don't Starve
Survival time without food is three weeks, so you don't have to be in a hurry for food. However, if you can find something healthy then go for it and keep some stock as well. It is about survival so you can rely on edible bugs and insects. It will be a jackpot if you can hunt fishes, cook them and enjoy your meal. Stay away from anything that seems suspicious; you aim to be alive and healthy.
6. Lastly, Shelter and Fire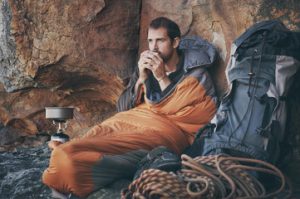 Make sure to build your shelter before the sunset, so you don't find difficulty in finding resources. Building a hammock is the easiest that you can put together using bamboo, leaves, and ropes.
Once you have designed your shelter, it is time to prepare the fire. It will not only keep you warm but work as a signal too. Gather sufficient dry woods for the night and set the fire right before the sunset. Collect the coal from the burnt woods for an emergency fire.
Also, you should also have a GPS tracker with you like, GoFindMe to guide your way and stay connected with others even when there is no cell service.
The Verdict
Carrying along an effective communication mode is one of the best wilderness survival tips. It can be your cell phone with an extra battery or the CB radio. Tell your friends and other travelers where you are heading to so they can look for you in case you are lost till then go along with the survival tricks.
Author Bio
I am Mitchell and writing has been my passion for a long time now. I love to read and write about survival tips & tricks. Adventure has always been my passion and favorite hobby. Admiring new places with every new day is what I dream of consistently. I continuously try to improve myself by welcoming changes and suggestions to my writing skills and the stated facts. Hopefully, my skills and knowledge will contribute to making a better world.