If you lead a healthy lifestyle, times have never been more challenging. Staying cooped up at home with your favorite workout spots being closed, it's important to have different recipes for a healthy snack whenever you want to watch a movie.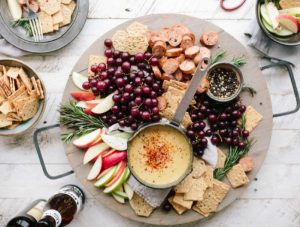 Exercise is one of the healthiest addictions you can have. However, in the midst of the ongoing coronavirus pandemic and people being on lockdown, it has become easier to slip up and pick up new, unhealthy habits. Staying at home means being a stone throw away from the pantry every time hunger strikes. Unfortunately, this can set you back or make you develop an unhealthy eating behavior. To avoid that, you need a healthy snack when dieting.
A healthy snack not only keeps you satisfied but also prevents unnecessary weight gain as you spend more time in front of your TV or laptop. Of course, don't forget that healthy food can be cheap too! If you remember a few tricks, you can win money when buying food. We have six utterly delicious, healthy snack recipes to ensure you remain fit even during this period. Let's explore these healthy snack ideas. 
1. Trail Mix Popcorns
Tried and tested, popcorn is still a go-to snack when watching your favorite movie. You can choose whether you want it salty or sweet. However, if you cannot pick one flavor, go for trail mix popcorn — a healthy snack to indulge in. We recommend you make your mix at home as store-bought ones can contain a few unhealthy preservatives.
Ingredients
1 cup air-popped popcorn

1 tablespoon dried cranberries

1 tablespoon roasted peanuts (dry roasted)

1 tablespoon dry chocolate chips
How to Prepare
In one large bowl, stir all the ingredients together. It's as simple as that, and you have a delicious healthy snack — easy choice for your movie night! 
2. Chunky Guacamole
Eating junk food every time you want to binge on your favorite TV show is not something you want to do daily. But including this recipe in your go-to healthy snack choices is a smart move. That way, you can enjoy your shows guilt-free. Guacamole is a favorite in keto diets, and as such, it's a great option to have in your cooking arsenal. What do you need to make this delight, you ask? Let's get into it.
Ingredients
 2½ ripe avocados

½ tablespoon lime juice

½ tsp garlic (minced)

1 tsp kosher salt

2 tbsp full-fat sour cream

2 tbsp chopped cilantro 

Freshly ground black pepper

2 tbsp finely chopped onion

Crisps to serve
How to Prepare This Healthy Snack
Cut your avocado into small cubes and put inside a bowl. Pour in the lime, sour cream, salt, garlic, and pepper. Mash it with a fork to keep the texture rough and chunky. 

Fold in the cilantro and red onion and stir until its properly combined. 

Serve with crisps
3. Smoked Paprika Potato Chips
If you have been wondering, 'What healthy snack can I eat at night?' You cannot go wrong with this one. The best part is, instead of shopping online, you can easily make some at home, and we will show you how. 
Ingredients
1 large russet Potato

1 smoked paprika

2 tbsp olive oil

Black pepper and salt to taste. 
How to Prepare
Preheat the oven to 350°F.

Peel the russet potato and slice it into thin uniform slices. 

Soak them in cold water for 5 minutes. 

Pat the slices dry and toss them in a bowl containing olive oil, smoked paprika, black pepper, and salt. 

Line them in an oiled baking sheet. 

Bake them for about 30 minutes until they are crunchy and golden brown. 
Quick Tip
You can make a lot more and pack the chips to have a bite to eat later. This is one of the most convenient healthy snack hacks you should definitely try out. You'll have ready munchies whenever hunger pangs strike. 
4. Dark Chocolate Dipped Bananas 
Bananas are a great option when you want to lose weight, increase energy, or reduce belly fat. When you add the somewhat bitter taste of dark chocolate to bananas' sweet taste, you get a delicious healthy snack at night to enjoy. To make it, you'll need:
Ingredients
2 bananas peeled and sliced into thirds

2 tbsp coconut oil

8 oz chopped semisweet chocolate

6 craft sticks

2 tbsp unsweetened coconut (shredded)

Toasted almonds 2 tbsp chopped 

½ tsp flaked sea salt
How to Prepare
Use waxed paper to line a baking sheet and insert a craft stick into each banana. Arrange the bananas on a baking sheet and freeze for about an hour or until firm. 

Mix the chocolate and coconut oil into a heatproof pan. Using a pan of hot boiling simmering water, boil the mixture, stirring until well mixed. 

Dip each banana piece one at a time into the melted mixture and add extra chocolate using a spoon. 

Sprinkle two banana pieces with almonds, two with flaked sea salt, and the rest with the shredded chocolate.  

Set it back on the baking sheet and refrigerate for about 20 minutes or until firm. You can snack on your chocolate dipped bananas for up to three days when you store them in the freezer.
5. Healthy Mexican Hotdog
One thing you may not know about hot dogs is that they are protein-packed and perfectly portioned. Thus, they are one of the best healthy snack foods to eat at any time of day or night. When you add healthy toppings at home, you can have this treat whenever you wish. 
Ingredients
4 hot dogs

4 potatoes or whole wheat hot dog rolls

Pickled jalapenos

4 tbsp bottled salsa

4 bottom trimmed scallions

Guacamole
How to Prepare
Heat the grill or stovetop grill pan until hot.

Add the hot dogs and the scallions on the grill and cook until they become charred lightly on all sides, for about 10 minutes. 

You can now fold the hot dogs into the rolls, topping each with salsa, grilled scallion, guacamole, and jalapenos. 
6. Chewy Oatmeal Chocolate Chip Cookies
Just because you are sticking to a diet doesn't mean you cannot enjoy a delicious healthy snack during COVID. Chewy oatmeal is one such option that can satisfy your sweet tooth without you stressing about packing on those extra calories. Here's how to make it:
Ingredients
1 cup rolled oats

1 cup flour

¾ tsp baking powder

½ tsp baking soda 

1 extra-large egg

1 tsp vanilla extract 

½ cup light brown sugar

½ cup of sugar

½ cup dark chocolate chips

½ tsp sea salt
How to Prepare
Preheat the oven at 375°F

Mix flour, oats, baking soda, baking powder, and salt in a large bowl. 

In a separate whisking bowl, beat the butter, vanilla, egg, and the two sugars until you achieve the right consistency.

Beat the dry ingredients into the mixture carefully until well mixed, then add the chocolate chips.

Line a baking sheet with nonstick spray. 

Scoop the dough generously, keeping the cookies 2 inches apart, and bake for 10 to 12 minutes or until the edges start to brown.

Let your snacks cool before you eat. 
Conclusion
We recommend having a healthy snack night if you want to stay fit and keep calories at bay. It's always a good idea to have a few recipes to whip up delicious treats anytime you want to binge on your favorite movies or shows. These six recipes are some of the best ones you can effortlessly make, without spending hours in your kitchen. Please let us know what your favorite is! 
Author's Bio:
Ellen Royce is a valuable content writer that loves experimenting with all kinds of food recipes, to establish the perfect diet for her body. Whenever she gets some free time, she likes to make trips to the mountainside and enjoy the fresh air and the quietness of nature. In her free time, Ellen loves to try her luck by playing no deposit slots.