Bread is a staple food in many diets, but it can often be associated with unhealthy eating habits.
There have been misconceptions about bread being an unhealthy food, but is this true? Unless you are on a specific diet plan recommended by your doctor or dietician where bread is excluded, there is no reason to deprive yourself of the pleasure of eating bread.
Yes, with the right ingredients, bread can be transformed into a nutritious and satisfying meal.
In this blog post, we will explore some of the healthy things you can eat with bread to make it a more balanced and wholesome part of your diet.
9 Healthy Things to Eat with Bread
1. Avocado spread
Avocado is an amazing fruit, highly rich in riboflavin, folate, niacin, pantothenic acid, magnesium, and vitamins C, E, K, and B6.
This makes Avocado spread one of the healthy things to eat with bead. You can get fresh avocado fruits, mash them, add some chopped tomatoes and onions and a hint of a line, mix, and it together.
Boom, your Guacamole is ready, and you can place it in between the bread slice and toast it.
2. Honey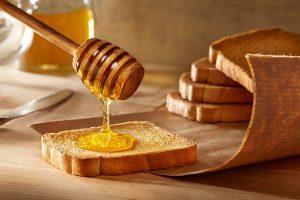 If you like jam and butter, you can replace it with a healthier option like honey. Honey is rich in antioxidants that protect the body from inflammation, and it doesn't contain artificial sugar like jam and butter.
You can rub honey on the bread slice and take with tea as breakfast, or you can rub it on your nicely toasted bread.
3. Home-made peanut butter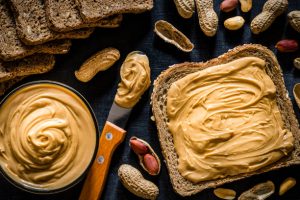 Peanut butter is rich in protein, which makes it one of the healthy things to eat with bread. It is a good option for butter and jam.
A loaf of toasted bread and a knife-full of peanut butter is a perfect breakfast. Additionally, it is incredibly delicious.
4. Virgin olive oil, garlic, and herbs
Are you a fan of garlic bread, or do you need something more native? To make delicious garlic bread, all you have to do is to get some fresh garlic, grate them, drizzle some olive oil, add some herbs and seasonings and insert them in the bread, and toast them until it's crisp. Boom! Your healthy garlic bread is ready.
5. Hummus
If you want your estrogen level in check, then hummus is the perfect food to eat with bread.
Additionally, it is a yummy spread free of unwanted calories. You can use it like that or blend some boiled chickpeas with veggies and spices.
6. Ricotta cheese
If you are a cheese lover, you can go for ricotta cheese, which is a healthy type of cheese.
Ricotta cheese is rich in nutrients, such as vitamin A, vitamin K, iodine, phosphorus, niacin, vitamin B12, selenium, riboflavin, and zinc. This is why it is one of the healthy things to eat with bread.
7. Low-fat cheese with berries
If you like cheese and toppings on your bread, take whole grain bread, toast it with a handful of low-fat cheese and add some berries toppings.
The sweet and salty mixture of berries and cheese makes your toast a perfect breakfast choice. You can take this irrespective of your age because berries are filled with antioxidants that are helpful to the body.
8. Egg and tuna salad
Egg and tuna salad is also another healthu thing to eat with bread because they are sources of protein, which helps to keep you feeling full and satisfied. They also provide important nutrients such as vitamins and minerals.
When making egg salad, using low-fat or fat-free mayonnaise can reduce the amount of unhealthy fats. Tuna salad can also be made healthier by using low-fat or fat-free mayonnaise, or even using Greek yogurt instead.
Furthermore, incorporating vegetables such as celery and onion can add fiber and vitamins to the salad.
9. Lettuce, tomato, cucumber, and other fresh veggies
Eating fresh vegetables such as lettuce, tomato, and cucumber with bread is considered healthy because are a good source of vitamins, minerals, and fiber, while bread provides carbohydrates and protein.
Eating the two together helps to balance your diet and provides a range of nutrients.
Conclusion
Bread can be unhealthy, especially when eaten with the right things. The best way to take bread is to eat it with healthy things. The above are the seven healthy things to eat with bread. You mustn't try all, but ensure to incorporate one or more of them into your daily diet.