Health clubs come in various sizes and offer different sizes and amenities. Each health club can offer a range of classes, including yoga, aerobics, kickboxing, exercise ball, or taebo. Additionally, the center might have amenities, including spa treatment, Jacuzzi, steam room, swimming pool, or sauna. Complementary services offered by health clubs include specialized training, healthy snack bar, beauty treatments, hair salon, shower, and lockers. Here are a few tips to help you select the ideal health club to match your needs.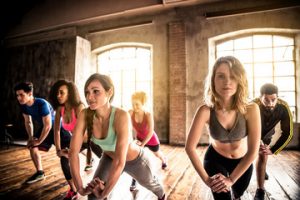 Location matters 
The ideal health club is near your either home or office. This saves time, effort, and money while allowing you to make the most out of the health club. Depending on your personal time, you save when you can easily hit the health club near your home or office. A health club in a convenient location allows you not to miss your fitness schedule even on a busy day. Additionally, it eliminates worry about traffic and other time constraints. A health club near your kid's school allows working out after dropping your child at school. 
Available fitness trainers
Health clubs need fitness trainers. Ensure that the club has trainers with years of experience in the field and with expertise in your favorite workout routine. Talk to the trainer to express your particular needs to ensure that you will get good value for money. The ideal fitness trainer is positive, upbeat, and with a fun personality. Other traits to look for a trainer include convincing and motivating to make the workout fun and fulfilling. This allows getting the motivation to keep going.  
Presence of appropriate equipment
It is possible to select a health club online using an app. However, check that the club has modern equipment in good working condition. These should be on solid ground without wobbling. Additionally, the club should have enough equipment for everyone. This ensures that you won't have to queue to use the equipment you want. Equally important is to understand the areas you want to work on to ensure that the health club has the appropriate machines. 
Number and reputation of members
Ensure to find out some of the members of that health club. One frequented by people of good repute in society is a better choice. This will give you immense networking opportunities that might grow your career and professional circle. Additionally, the gym should not be overcrowded or have people who come purposely to socialize. Waiting in the queue to use the appropriate machine is distressing and time-wasting. 
Health club staff
Mind about the staff at the health club to ensure you have a great experience. The ideal club is one with friendly and helpful employees. Employees at the health club should never get bored to prevent spending time on their phones or chitchatting with members. Equally important is the need for employees who can manage all equipment at the health club. This is backed by appropriate knowledge of handling emergencies including 
Heimlich Maneuver

Handling a muscle pull

managing related injuries

Mouth to mouth resuscitation
Interior layout 
Take time to check out the health club before making a final decision. This gives time to check the cleanliness and tidiness of the club however busy. Check that the changing area and bathrooms are clean with clean towels. Facilities such as the steam room, toilets, sauna, and bathroom are working efficiently. The club should have appropriate showers for all members with a user-friendly layout free from clutter. 
Club exterior
This is another important factor to consider when selecting a health club. Mind about the time it takes to enter and exit the club. You would not want a club whose access is very inconveniencing with a long distance from the parking to the club entrance. This wastes a lot of valuable time. Additionally, the health club needs enough parking spaces for all members. The outdoor area of the club should not have litter or dark spaces that might hide criminals. 
Read reviews 
The final step, when searching for a health club is to read reviews. This allows getting firsthand information regarding how other people think about the club. Reading reviews allows knowing all the positive and negative issues regarding the club. This makes it easier for you to make an informed decision regarding selecting the ideal health club that will give you the best results. It is obvious that a club with more positive reviews than negatives is a better choice. 
Bottom line 
Personal needs and desires matter significantly when selecting a health club. However, ensure that the club has friendly and motivating staff. Additionally, the interior and exterior of the club should be very organized and with appropriate training equipment. This will ensure that you make the most of your time in the club while significantly improving your overall health and wellbeing.