Children have different dental needs when compared to their adult counterparts. Children are more susceptible to certain dental disorders, and their dental problems will need to be detected early in life to prevent serious problems in the future.
A pediatric dentist is a dental specialist that specializes in the oral health of children. They are trained to identify and treat oral health problems while they are still minor and treatable. 
They also have expertise in handling anxious children, and their bedside manner and empathetic mindset will help alleviate some of the dental anxiety that your children may be experiencing.
Here, our focus will be on how you can choose the best dentist for your kids.
When Should You Take Your Child to the Dentist?
Think of the first few visits as a testing ground. Your children will need to get used to attending the dental clinic. Once your child has turned one, they can sit in a dentist's chair to examine their teeth and gums.
Children must visit their dentist at least once every six months to examine their teeth and help treat their oral health problems while still minor. 
Your children will also be taught how to properly take care of their teeth to reduce the risk of cavities and other dental problems.
Things to Consider When Choosing a Dentist for Your Kids
The age of your child will need to be considered. Are they an infant, toddlers, or are they attending school? Can they communicate their oral health problems with you or their dentist? Do they have any special needs that will need accommodating?
Experience also matters. While new dentists are very dedicated to their craft, it is better to err on the side of caution and choose a dentist with many years of experience and a proven track record of success.
An experienced dentist will have more experience dealing with a wide array of oral health problems. The practical experience will allow them to treat your children's health problems quicker and with less pain and complications.
You should also consider their specializations. A family dentist may be a convenient choice, as they will take care of your oral health needs as well as the oral health needs of your children.
However, a pediatric dentist specializes in the oral health of children. They are legally required to enter a two-year post-graduate residency upon completion of their DMD or DDS. They are also required to take courses in child psychology, development, and pediatric pharmacology.
As such, you can enjoy peace of mind knowing that your pediatric dentist has the experience and education needed to provide your children with optimal oral health care.
You should also evaluate how the consultation went. During the initial consultation, the dentist will take the time to get to know your children and their needs. They will also evaluate their overall oral health as well.
Pay close attention to your children and how they behave when they are at the dentist's office. Are they calm and receptive? Are the staff courteous and inviting? How is the general atmosphere? Is the office clean? Are the tools and equipment modern?
How the dentist interacts with your children may help you determine if they are the right choice. You can also ask your children how they feel about the dentist after the consultation, assuming they are old enough to verbalize their opinions.
If your children respond well to the treatments that they receive, then it is likely that the dentist did an excellent job of treating their dental problems. 
The culture and atmosphere of the clinic and its staff must be professional, and the dentist must place the needs of their patients over the bottom line they receive.
It is also paramount that you take a close look at your insurance policy. If your child requires, say, braces, wisdom teeth extractions, or a root canal, you need to ensure that your policy covers the procedure they require.
Your dentist must take your insurance before you avail yourself of their dental services. If you do not have insurance, or your policy does not cover the procedure, ask them how much they would charge for the dental work. 
You can compare and contrast their prices to other clinics in the area to make your decision a little easier.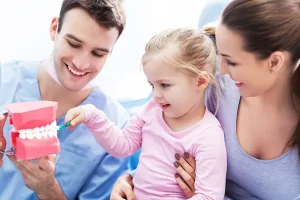 Why Should You Consider a Family Dentist for Your Child?
A family dentist can treat patients of all ages and walks of life. Children, in particular, are susceptible to developing dental anxiety when they are still young and vulnerable. 
By working with a family dentist, they may overcome their fear of dental offices, which will help them greatly when they are adults. Another benefit of going to a family dentist regularly is that they will have your entire family's medical history on file.
They will be able to track the progression of your teeth as well as the teeth of your children as they age. As a result, they will be able to provide you with proper, accurate, and optimal oral health care that will evolve with your family's changing needs.
The importance of a family dentist should not be taken lightly, and having a family dentist will also allow you to take care of all of your family's dental appointments in a single afternoon as well.
Family Dentist Benefits
Having a family dentist will help relieve dental anxiety. They will keep track of your dental history, and you will be able to form an enduring and trusting relationship with them over time. 
In addition to working with someone you know and trust, they will also provide you and your children with emergency dental services if needed.
For peace of mind and reliable oral health care, a family dentist should be strongly considered.