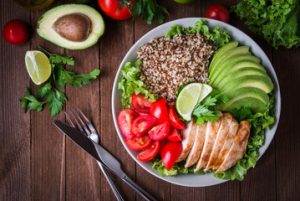 When it comes to eating healthy and adopting the right diet, figuring it out – and making it stick – can seem like a full-time job. First, you have to sort through the exorbitant amount of information online, much of which is inaccurate or biased, pulling out what is based on facts and science, and then you have to decide which of that applies to you. You may even wish to read up on what nutrition experts like Steven Gundry advise that you eat. From there, it's a trial and error process where you work to find what makes you feel and function best.
While it can seem overwhelming to choose the best diet plan, maybe the solution isn't to choose just one. Maybe instead we should opt for a combination of the best components of a few different ones. This idea, combined with the need to adopt a lifestyle change for dietary success, is the exact premise behind the Pegan Diet.
Origins of The Pegan Diet
Founded by Dr Mark Hyman, and a combination of the vegan and paleo diets, the Pegan Diet was built on the principle that there are many characteristics of a healthy diet that most of us can agree upon. For example, the need for a high intake of vegetables and fruit and high-quality fats; the need for limited intake of chemicals, pesticides, hormones and antibiotics, coupled with a low glycemic load and adequate protein intake.
But there are also areas of greater controversy: the consumption of dairy, grains, and whether one should go gluten free, following as modern wheat has lost a great deal of its nutritional value compared to what it originally had. And then, of course, there is the debate of eating meat. A recent study showed that red and processed meat intakes were associated with modest increases in total mortality, cancer mortality, and cardiovascular disease mortality, underscoring the necessity to maximise sources of plant-based protein in the diet – at least at 75%. But getting protein from plants is sometimes met with a hurdle when considering the differing research on the consumption of beans and legumes. While some denote them as a useful plant protein source, packed with fibre and other nutrients, additional literature speaks to their high content of lectins, which are a type of protein found in all plants. Coming from beans, however, they are particularly vulnerable as they bind to sugar molecules that cover most cells in the body, leading to maladaptive functionality and contributing to things such as arthritis, joint inflammation, autoimmune issues, heart disease, and obesity.
The Basics of Pegan Diet
Despite the controversies and varying views, the Pegan Diet, created in 2015, has some concrete guidelines designed to help individuals successfully adopt this amalgamated way of eating and living:
High Intake of Fruit and Vegetables This category should comprise 75% of the diet, focusing mainly on vegetables such as leafy greens, and vibrantly coloured selections. Fill in the diet with fruits and starchy vegetables, like sweet potato, but always opt for these in their most natural form, and choose a variety whenever possible.
Protein
Opt for mostly plant-based protein, such as nuts, seeds, avocado, and up to one cup of beans per day, aiming to safeguard against lectins intake. This should make up 75% of your total protein, while the other 25% can come from animal-based protein sources such as eggs, grass-fed poultry and meat. Fish that is sustainably farmed in the absence of high mercury content is also a worthy and highly recommended addition.
Fats
New research shows increasing promise behind the value of healthy fat intake. Improving digestion and skin, boosting brain function and alertness, and helping in weight loss, individuals following the Pegan Diet should aim to consume 25%-35% of their calories from fat. This includes Omega 3 rich fat sources like flaxseed, and fatty fish, as well as nuts, avocado, nut-based oils and coconut. The latter is an excellent source of saturated fat, an important addition to the diet.
Just as important as following the guidelines of what to eat, is following the guidelines of what to avoid:
Reduce overall intake of grains: avoid intake of gluten and wheat, but keep other gluten-free grains at low consumption to foster better digestion. The latter includes things such as quinoa, teff, and millet.
Avoid all dairy: cow's milk, butter, cheese, yoghurt, etc. Opt for plant-based milk, like coconut milk or almond milk instead.
Shift the focus to overall clean, natural, whole food eating with a mindset that follows. In other words, ask yourself how close the product is to its original form, and choose local and organic foods when possible.
Avoid chemicals, additives, preservatives and processed foods, and cut out all sugar.
Benefits of the Pegan Diet
It is from properly following these guidelines that the Pegan Diet can offer maximum benefits to its user. It exposes a method of sustainable living that encourages the consumption of satisfying amounts of foods, rich in macro and micronutrients, in a manageable and practical way. It is accessible to most people, without being overly expensive or requiring a great deal of special training or an unreasonable time commitment to conform to its regulations. For many people, the Pegan Diet is the answer to a long road of failed diets that are too restrictive, too complicated or too expensive to maintain.
At the root of the Pegan Diet is a lifestyle shift which makes the diet sustainable to the user and can manifest long-term success. One of those components of success comes from the complete avoidance of dairy. This food group has been shown to play a role in the development and maintenance of eczema and asthma, increases inflammation within the body and harbours auto-immune conditions. Eliminating this food group from the diet prevents the individual from experiencing these symptoms and their associated illnesses, boosts energy, and encourages better lymphatic (detoxification) function within the body.
Furthermore, high meat consummation has shown negative health consequences as well. It too, is inflammatory, contributing to the development of arthritis, not to mention the fact that it negatively promotes the progression of cardiovascular disease and poor heart health. With meat kept to a minimum in the Pegan Diet, those practising the diet lower their risk of these negative outcomes.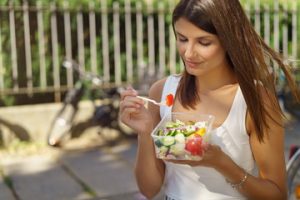 How To Apply The Pegan Diet In Your Life
The perfect sustainable solution, matched with the ideal balance of food consumption, it all sounds good, but how do you actually make it happen? What does it look like to follow the Pegan diet? Here are some sample Pegan Diet meal plan ideas:
Breakfast
Avocado Lettuce Cups  with Homemade Salsa
Green Vegetable smoothie
Lunch
Kale and Rocket Salad with Miso Tahini Dressing, chickpeas, vegetables, and sesame seeds
Grilled Salmon with raw vegetables and Mesclan mix
Cauliflower rice with pumpkin seeds, spices, and roasted eggplant.
Dinner
Mixed vegetable curry with Cauliflower rice
Roasted vegetables, walnut meat, salsa and guacamole
Cauliflower Crust pizza with vegetables and an egg
With a little bit of time and practice, you will quickly get used to this way of eating, the ingredients that are typically used, and how to fill a pantry to maximize your cooking success. Once you get on board, not only will it get easier, but you'll experience long-term sustainable changes that make you feel better, help you to reach your health goals, and happily maintain a lifestyle that will satisfy you and promote long-living health.
AUTHOR'S BIO
Victor Chapela is Co-founder & CEO of Suggestic, a Silicon Valley-based company whose mission is to help individuals make optimal food choices for weight loss, disease prevention and health improvement by using artificial intelligence to combine personal preferences with behavioral cues and the latest nutrition science. His company is suggestic.com