Pinot Noir is used to make red wines, Champagne, Sparkling White Wines, and English Sparkling Wines. Pinot Noir has a lighter style and is known for being a less alcoholic wine. It became popular in 2004 in the US, Asia, Australia, and New Zealand. Generally, they are grown in cooler climates. Known as one of the most expensive wines around the World, Pinot Noir' is prized by collectors for its worthiness and fineness. It is also selected and included in many of the best red wine clubs around the world.
Growing regions around the world and their origin: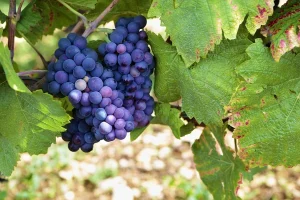 Pinot Noir' is made from the red wine grapes of Burgundy. Due to its immense popularity, the red wine from Burgundy is the 6th most planted grape variety in the world. 
Pinot is a French word that means pinecone. The term "Pinot" is derived from it because the shape of the grapes is similar to a pinecone. There is also another reason for naming it Pinot. In France, there is a place called Pinos or Pignols, which is said to have cultivated Pinots since the middle ages. Hence, they obtained that name. 
Pinots have their origins either in the Northeast of France or the Southwest of Germany. It spreads to Chile, Australia, South Africa, New Zealand, and the United States through western Germany and northern Italy. Apart from these home territories, they grow majorly in California, New Zealand, and Oregon. Major productions take place in the sub-regions of Marlborough, Casablanca, Central Otago, Yarra Valley, Willamette Valley, and San Antonio. 
As a thin-skinned grape, Pinot Noir has moderate to high acidity, low levels of phenols, low to medium-soft tannins, and a lighter color than most other red wines. Making Pinot Noir requires skill, mastery, and proper keeping.
 In Burgundy, the birthplace of Pinot Noir, traditional winemakers focus more on soil and climate than the quality of the variety of the grape. Even a minor change in growing location creates a significant difference in taste.
The fruit taste is fresher during the process when the temperature is lower. Longer and warmer fermentation and cutting result in more extracted wines with a better tannic structure. Wine styles include sparkling wine, rose wine, and still white wines. 
Production:
Creative a lovely bottle of Pinot Noir requires care and skill. The production process may result in different qualities from mild watery to acidity and intensity of smell. If grown properly, this wine variety has a beautiful aroma, hence it has more adoration from wine lovers.
Since it is sensitive to numerous risks of viticulture, Pinot Noir is difficult to grow. It tends to rot because the grapes grow in a tight bunch and have thin skin. Due to this, the airflow is lesser between the grapes and causes uneven ripening sometimes.
Winemaking Process:
Like other winemaking processes, Pinot Noir is also fermented in small vats and punched down. While doing so, the winemaker may watch the process and decide whether to ferment only the berries or include some stems from the harvest. Sometimes the intact bunches are fermented fully. The grapes are then smashed partially or completely by punching down.  
When the balance is not maintained properly in this method, there will be a higher level of tannin, which affects the taste and aroma of the wine. In the winemaking process, green unripe stems are removed. The process of winemaking may vary based on the cultivated region and several other factors. 
Primary flavors of Pinot Noir:
Cherry

Raspberry

Mushroom

Clove

Hibiscus
Pairing Pinot Noir with food:
Pinot Noir appears to be quite versatile because of its low tannin and high acidity. In Christmas dinner recipes, Pinot Noir is the most recommended wine. Its light body and it can be easily paired with many different dishes. The complex structure of the wine is the reason for its compatibility with all types of food.
Pair it with fatty fish or lobster, scallops, and shrimp for the seafood side. For the veggies-oriented dishes pair Pinot Noir with roasted carrots or caramelized cauliflower steak. Try it with beef bourguignon, duck, rabbit, or quail if you enjoy the meaty flavor. All of these work well with Pinot Noir.