Home gyms are the new essential when designing a home. Owing to extended quarantine periods, people have realized the importance and convenience of a home gym. Setting up a personal gym at home enables you to work out whenever you want and however you want, there is no commute to the gym, no sharing of sweaty machines, and you can personalize this space as you wish.
A good, well-made home gym can enhance your overall workout experience. While the gym is complete when you set up all the necessary equipment, there is still one thing most people miss out on. That is the mirror in your home gym. A mirror in your home gym will contribute to the overall workout experience you will have. 
A big mirror on the wall is necessary to complete the aesthetic. Mirrors cost a fraction of the equipment and are equally essential to complete the gym. There is a wide variety of cheap mirrors for home gym available that will not burn a hole in your pocket. So, here are the benefits of installing a mirror in your home gym. 
1. Helps you exercise with precision
There are so many exercises that require you to maintain a particular form and angle. A mirror, in this case, proves beneficial as you can carefully observe the angle and the state of your body while exercising. 
You can observe the form of your body while lifting or doing yoga, as the correct form and posture make all the difference. 
2. Improves technique
A mirror in the gym motivates you to do better as you constantly look at yourself. While working out, you might notice some variations or faults in your technique to improve. Observing practices without a mirror in the gym is difficult. Doing exercises with the wrong technique will fetch you no results. So, a mirror helps you notice the flaws in your technique and allows you to improve it.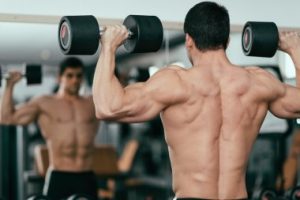 3. Boosts your motivation
Every gym enthusiast will agree that noticing the pump in between sets is a satisfying feeling. When you install a mirror in your home, you notice all the changes your body goes through while working out. Slowly and gradually, you start to see desired changes in your body, motivating you to work out more. If you are planning on shed some pounds, a mirror in your home gym can boost your motivation to lose weight.
4. Mirrors add light to darker rooms.
Mirrors are a great tool that interior designers use to light up a dim area as mirrors magnify and reflect light. Using mirrors can brighten up your home gym with a pleasing glow. Adding warm light lamps and bulbs is a good idea as they are not too harsh on the eyes and seem natural compared to white lights. Couple the warm lights with a mirror on the wall, and then the room will brighten up pretty well. This well-lit, bright gym room will motivate you to work out.
So, adding gym mirrors to your home gym is not a bad idea. If you are concerned about the budget, there are many cheap mirrors for home gyms available. Installing such a mirror will motivate you, help you improve your form, and make your home gym aesthetically pleasing.