Car accidents are traumatic ordeals that can result in all types of injuries, most commonly whiplash and other neck neck injuries from a car accident. These can be painful and quite serious. Worse yet, if not treated right away, they can worsen. If you're experiencing neck pain following a car accident, have a look below to learn more about what the common symptoms of neck injuries are and suggestions for how to self-care following a neck injury.
Symptoms of whiplash and other neck injuries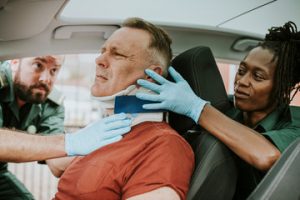 The most common symptoms of whiplash and other neck injuries, like neck sprains, are a pain, stiffness, and headaches. Other symptoms can also include dizziness, fatigue, tingling in the arms, increased difficulty moving your head from side to side, and pain in the shoulders, arms, or upper back.
Whiplash is the most common type of neck injury following an auto accident.
Other common neck injuries that can occur from a car accident include neck strain, neck sprain, muscle spasm, and neck fractures.
Recovery time following a whiplash injury is a few weeks. In some cases, though, people may experience symptoms that last for months or even years. You're more likely to experience chronic issues from whiplash if you experienced intense pain immediately following the injury that started in your neck and spread to your arms.
Self-care tips for whiplash and other neck injuries
While most people may not know much about rare diseases, there are efforts made to bring awareness to them. For instance, myocarditis awareness campaigns are on the rise to help educate people about this rare disease. On the other hand, most people are familiar with what whiplash is, but they may not know that the first thing you should do if you experience whiplash from a car accident is to get checked out by a doctor as soon as possible. Seeking out medical treatment right away is vital because whiplash, in addition to other neck injuries, may not reach their highest level of discomfort until days, weeks, or months after the accident.
After your doctor has examined you, be sure to follow any specific treatment instructions given to you. In general, though, you can also do the following to help reduce pain and swelling following a neck injury:
● Ice the affected area during the first 72 hours after the injury to reduce swelling and inflammation.
● Take over-the-counter pain medication such as ibuprofen to help manage pain and reduce swelling.
● Use a neck brace when sitting or sleeping to control the position of your neck. A rolled-up towel can be used in place of a neck brace.
● Stay hydrated. The vertebrae in our spines require water to maintain disk height and spinal alignment, so staying hydrated throughout the day will help to take the pressure off your spine.
Legal steps to take following a neck injury from an auto accident
If you've decided to seek out legal advice following a car accident that resulted in a neck injury, you may want to start by getting a free consultation from a law firm. Law firms commonly offer free consultations. Ontario based Preszler Law Firm, for example, offers free case consultations that can be scheduled directly on their website. If possible, schedule your consultation within one week following the accident.
It's important to note that everything you say and do can be used against you by an insurance company. For starters, never apologize for the accident. Additionally, notify all parties that you are experiencing pain and plan to get medical treatment. If an insurance company contacts you, politely inform them that you have legal representation and give them your attorney's contact information. Never sign anything given to you by an insurance company or give a recorded statement without first talking to your lawyer. A good civil law lawyer will help guide you on the best steps to follow.
Following an accident, you may experience some sort of pain in your neck. It is important to take this pain seriously and get proper care as soon as possible. If untreated, neck pain may continue to present itself long term. This can have a lasting impact on your quality of life. If you are experiencing pain following an accident that was no fault of your own, it is best that you consult with a lawyer. You may be entitled to monetary compensation, and a lawyer can help you obtain that.