Shopping your workout wardrobe isn't as easy as you think. A lot of things need to be put in mind — and one of them is choosing not only the best design, but also the ideal material for workouts.
If the material of your workout clothes doesn't fit for a specific workout, such as some cardio workouts, it will make you feel uncomfortable, regardless of how fancy the label is or how latest fashion is.
For instance, after a hard workout, you'll feel exhausted, and you'll probably be covered in sweat. It may sound crazy, but a fitness expert from ​Everyday Health​revealed that the workout clothes you wear could make a massive difference in how you feel during and after you exercise.
If the fabric they're made of isn't ideal for the type of workout routine then it can affect your overall performance. "Wearing comfortable workout clothes shouldn't be overlooked," says an expert from ​Vivotion.com​.
Things to Consider When Buying Workout Clothes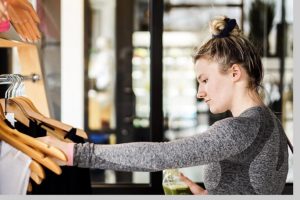 According to Leanne Beattie​, ​a Health and Fitness writer at Spark People ​, wearing the right workout clothing can make a difference between a fun workout and an hour of misery. Whether you're hitting the gym, heading to the hills for a run, or just doing your workout regimen in the comfort of your home, investing in stylish yet comfortable workout apparel is few of the perfect motivations to keep you moving.
Style with Comfort
One of the essential things you have to consider is the comfort that your outfit will give to you.
Make sure to choose materials that will allow you to move freely and not compress you.
Another thing is to pay closer attention to fit than the size. Some workout apparels tend to be smaller and more form-fitting than regular clothes. Check every piece if they have a small percentage of spandex listed on the label. In this way, it will provide you not only with a more excellent range of motion throughout your workout but also with a comfortable fit without being skin-tight.
Choosing the Perfect Fit
Here are some of the stuff you need to look for to ensure that your exercise clothes fit your body and the routine that you have planned.
Wear clothes that are loose and comfortable enough. However, if you'll have a run or biking, you must avoid wearing baggy or loose pants as it would be tangled up in the pedals on your feet.
Stretchy and fitted fabrics that can wick away sweat such as leggings or yoga pants are perfect choices for activities like yoga or pilates.
Comfortable and casual twin sets are also great for working out in the gym or running outdoors.
Find clothes that will fit and suit your body type. Look for brands that offer plus size and petite options so your workout outfit can perfectly fit your body. In general, don't pick a workout clothing that can get in the way of the activity.
Wicking Ability
It's normal to sweat a lot, especially during your workout. That said, make your that your base layer will keep you not only dry but also comfortable.
An outfit made from a polyester or Lycra blend or other synthetic materials is perfect if you're going to be perspiring a lot.
These kind of fabrics are sure to keep you cool and fresh in the summertime and warm in the winter. Wool and bamboo, on the other hand, are recommended if you prefer natural materials as they can wick away moisture, too.
It Goes Sleek, Versatile and Layerable
When you wear more flattering things, you'll feel more motivated to workout, as claimed by ​Kelly cooper vice president of merchandising, design and product development for Athleta, the Gap-owned athletic and lifestyle manufacturer and retailer.
This is why you should opt for workout clothes that are sleek and versatile that can carry you from the hottest to the coldest months, mainly if you workout outdoors. Also, look for items that can be easily layered during cold months.
You can start off with a moisture-wicking dry later like wicking T-shirt, then you can add a fleece pullover that can provide you with warmth, and finish it with a protective outer layer, e.g. windbreaker or a nylon shell fabric.
Tip: To get the best deals, you can shop your workout wardrobe during the off-season.
Technologically Advanced
In today's world, a lot of technologically advanced exercise clothing is available in the market. These kinds of workout pieces usually feature anti-microbial treatments that help to fight odour, while others have built-in ultra-violet protection which can guard you against the sun's harmful rays.
A glow-in-the-dark or luminescent jackets and running pants can be your best bet particularly if you exercise or run during at night as they will keep you visible.
Appropriate Pieces for the Ideal Activity
Just think about it, if you're going for Spinning or cycling classes, you sure wouldn't be wearing baggy pants, would you? Flowing tops wouldn't keep you covered as well if your yoga instructor asked you to perform the downward dog position.
So whenever you buy clothes, you have to consider the activities you do most and ensure that they aren't only comfortable but also appropriate for that specific activity.
A website called ​Ritely​ advised to always try on the clothes before you buy them. You can also try some of the workout moves in the dressing room so you can be sure that they will do well.
Read Reviews
If you love online shopping, getting your workout wardrobe from a specific brand through online can sometimes be tricky as you can only see the product through your screen and not in person. Therefore, reading reviews before committing to a particular item or band is important.
In this way, you'd know if the customers have to say about the product or they like it for a good reason. For instance, if the leggings you're looking for has a 4.5-star rating and with more than a thousand reviews, that can be your signal to add that item right in your cart.
Picking the Best Undergarments for Working Out
For women, a comfortable sports bra is the key
There are two types of sports bra:
Encapsulated
Compression
Encapsulated sports bras have in individual cups designed for each breast, and they are a perfect choice if you wear a C cup or larger than that. Not only they provide better support, but they also keep the sweat at bay.
On the other hand, compression bras are designed to secure breasts with pressure, making them perfect for high-impact workouts. They work best if you wear an A or B cup.
Moisture-Wicking Fabrics for Your Underwear
Keep in mind that whenever you workout, your entire body is likely to be covered with sweat, including down below. That said, lightweight underwear made from wicking fabrics that can help you to pull sweat away from your skin and lessen the risk of chafing should be on your shopping list.
Stay Away From All-Cotton Socks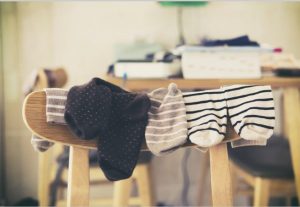 Steer clear of all-cotton socks as it will soak up the moisture which can give you painful blisters. Instead, look for socks made from wool blend or nylon as both are sure to wick away sweat, allowing your feet to breathe.
Choosing the Best Fabrics for Workout Clothes
Cotton for Low-intensity Workout

This kind of fabric acts like a sponge which sops up your moisture, giving you an uncomfortable feeling during your high-intensity and sweaty workouts. That said, cotton is ideal for low-impact routines such as yoga flows.
Cotton is likely to give off a stinky sweat smell after your workout as compared to synthetic fabrics.
Wicking Fabrics
I know the feeling when that sticky feeling of sweat hits you. If you wish to get rid of that problem, wicking fabrics are the perfect material for you, such as:
Nylon
Spandex
Bamboo
Polypropylene
These kinds of fabrics can pull the moisture away, letting the sweat evaporate on your skin. They can also keep your body temperature down while doing your workout regimen in warm environments.
Perfect Fabric for Outdoor Workouts
If you live in a country that has four seasons, what you wear will be more likely to change according to it.
Hot Weather
During the summertime, make sure to wear fabrics which will allow your skin to breathe and wick your sweat away. Wear workout pieces that are cool, comfortable, and will enable you to move freely.
Cold Weather
When the weather is cold, it is vital to dress warmly. However, when you exercise, you'll be needing to boost your heart rate and your body temperature.
Be sure to dress in layers that you can remove right away. Also, wear a dress that's warmer than the temperature outside. An item of sweat-wicking clothing is perfect as your inner layer, and you can put an insulating layer on top of that.
Don't forget to protect your head, ears, and hands against the cold.
Wet or Windy Weather
To keep your outdoor workout going despite the rainy or windy weather, make sure to wear an outer layer that can protect your skin against the harsh elements.
Women's Workout Clothes: 4 Things to Look For
Here are the things you can look for on your next shopping trip.
Moisture-Wicking Women's Workout Tops
Women, here's a reminder. Avoid cotton at all cost! Running coach Nicole Gainacopulos, C.S.C.S., owner of Momentum of Milwaukee, said that moisture-wick material is ideal to avoid chafing and to keep you cool.
Polyester, nylon, wool, and spandex are some of the performance-enhancing and comfortable materials. Bamboo can also be your great option as it acts as a natural antimicrobial that helps in minimizing unwanted odours.
Snug-Fitting Sports Bras
Finding the right sports bras isn't an easy feat, and the search can get a bit complicated when you're pregnant, or you've just had a baby. A snug-fitting sports bra can never go wrong as it will provide you with a snug fit, simple design and full coverage to avoid any wardrobe malfunctions.
Sports bras designed with adjustable shoulder straps and enough compression is ideal for new moms as they will keep everything secure. In fact, a wide variety of sports bras specially designed for nursing mothers are available in the market.
Workout Leggings With Added Features
Before you buy leggings, think about the type of exercise you'll be doing in them. For instance, if you'll run in the cold, leggings made with thicker material can be your best bet. Also, look for styles with pockets so you can stash your phone, keys, etc.
On the other hand, if you'll do jumping, squatting and lunging, look for leggings that aren't see-through.
Maternity Workout Clothes
For future moms out there, look for maternity activewear that moves and grows with you. It's vital to find maternity workout leggings that will provide you with plenty of support for your baby bump while enabling you to move through your workout routine.
For sports bras, as your due date gets closer, you might want to consider investing in a nursing or maternity sports bra. From maternity workout tops to belly bands, more maternity workout clothing options are now available in markets.
Men's Workout Clothes
For specific workouts, you have to take a break wearing your basketball shorts and old college t-shirts. For instance, if you're a cyclist, look for cycling shorts designed to be aerodynamic without being too tight in certain areas.
A comfortable, loose-fitting, sweat-wicking workout top is ideal than going shirtless when you're going to hit the weight room.
Full-Coverage Workout Shorts
Workout shorts can be one of your go-to gym outfits. When shopping, make sure to look for a pair made with:
Sweat-wicking material
Offers enough coverage
Features a stretchy waistband for comfort
For tighter shorts, look for a pair with a bit of grip around the thighs.
Plus-Size Workout Clothes
All bodies of all shapes and sizes, deserve workout clothing options. When you look and feel good with your workout clothes on, that translates to better workout motivation no matter what your body type is.
Before, it's hard to find high-quality and budget-friendly plus-size workout clothing brands. Now, tons of companies are starting to catch on from sports bras, workout tank tops to underwear, leggings, to name a few.
Bonus Tips: How to Keep Your Gym Clothes in Tip-Top Shape
Washing your gym clothes is as important as washing your everyday outfits. Why?
To Avoid Infection
"When you sweat, you create an environment for the normal flora to reproduce," says ​Livefrey​. That said, it is essential for us to remember that sweat doesn't emit a smell. But when the bacteria started mixing up with your sweat, you'll begin to stink.
Even after performing light impact workouts, your gym clothes will soak up bacteria-riddled sweat. This could lead you experiencing skin irritation, e.g. dermatitis, folliculitis, etc.
To Prevent Stain Damage
Dirt, rust and sweat are few of the things that could leave a mark on your comfortable workout clothes after leaving the gym. Including the chemical reaction between sweat and oxygen, which is responsible for the yellowish discolouration parts in your shirt. They can be often found under your pits.
Now, if you're wondering how often you should wash your workout clothes. The answer is: wash after each use.
Dermatologists recommend washing your workout apparels after wearing them to lessen the occurrence rate of infection by removing the sweat and bacteria in your garment.
Here's How You Can Keep Your Gym Clothes in Tip-Top Shape
Dry Them Out
Right before you straight up into the shower, you have to make sure that you hand your workout clothes up to dry. Letting your clothes to soak up sweat further will only increase the bacteria growth, resulting in stinky clothes.
Turn Them Inside Out
Be mindful that the built-up bacteria and sweat cause your garment to stink. What you can do is to turn your shirt inside out so it will be much easier to wash the built-up dirt, sweat, and bacteria away.
Pre-Soak Them in Vinegar
Soaking your clothes in vinegar is one of the natural forms of disposing them to bad odours. By doing this, make a solution made of one part vinegar and four parts water.
The acidic nature of vinegar will help to eliminate body soil and frees the trapped bacteria.
Wash them in Cold or Warm Water
Most of the activewear available in the market features synthetic fabrics. Meaning, it's best to wash them in cold or warm water. If you don't want your workout clothes to shrink, don't wash them in hot water as it can damage the microfibres in the garments
Don't Go Crazy on the Detergent
If you own modern technology activewear, chances are your garment is made up of microfibres which are water resistant. Having clothes that are water resistant is sure to resist not only water but also sweat!
The excess amounts of detergent that contain dirt from the wash might only stick to the microfibres. So it's advisable to go with two teaspoons of liquid detergent for a full load.
Author Bio:
Isabel Speckman is a North Carolina-based freelance writer and work-from-home mother of three. In her 10 years as a professional writer, she's worked in proposal management, grant writing, and content creation. Her writing skills may be confirmed independently. Personally, she's passionate about teaching her family how to stay safe, secure and action-ready in the event of a disaster or emergency.