Living in a clean home should be everyone's priority. That is especially true now that the spread of germs can cause more serious health problems than ever before. From regularly dusting and wiping the floors, to vacuuming and scrubbing the countertops and bathroom area, you'll reap at least five benefits from a spotless home.
1. Avoid the spread of germs
Did you know that your kitchen is the perfect breeding ground for germs? The remains of the food alongside splatters from various foods and drinks can be a warm welcome for germs everywhere. That's why you should make sure your kitchen countertops are always spotless.
After every meal preparation, be sure to thoroughly clean and wipe the surfaces. If you have pets, be sure to clean it various times throughout the day, even if you haven't spent the time cooking.
You never know whether your cat spent time lounging on top of the kitchen sink. If you don't have time to clean, you can use a cleaning service like No More Dust Maid Services for help with cleaning.
2. Keeps breathing problems at bay
Asthma and allergies are common conditions in people who don't live in a clean home. Mould, dust mites, and pet dander contribute to the development of breathing problems.
Therefore, it's vital that you keep your home dust-free. If you've noticed that your home is becoming damp after rain, fix the problem and prevent mold and mildew from spreading throughout the interior.
What's more, try to declutter as much as possible. The more items you have in a room, the more dust will accumulate. You can read more about the health effects of dust.
3. Prevents pest infestation
Bugs and rodents are the first unwanted guests in your home that will inevitably inhabit the house if they can smell food. Spotting a rat or cockroach in the kitchen means you haven't been keeping it clean.
If you're too busy with work, or maybe you can't manage to keep the entire home clean on your own, you can always look for professional cleaning services and hire pros to make your home spick and span.
Whether you need them to keep your oven and stoves in the kitchen spotless, or you'd like someone to tidy beds, vacuum the carpets and sanitize the bathroom – cleaning professionals will help your home look squeaky clean. You can learn about how to keep your toilet cleaner and more hygienic.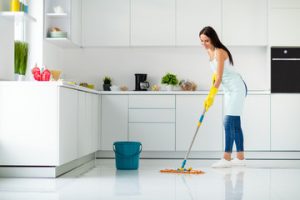 4. Improves physical activity
Have you noticed that you're spending less and less time moving? Well, if you take at least 30 minutes every day to do chores and clean around the house, you'll do your daily dose of workout. One day you can spend half an hour (or more) cleaning the bathroom. The day after that, spend time tidying up the bedroom and reorganize the closets.
Vacuum the day after that and dust as you finish vacuuming. You'll notice that you're feeling more vigorous and that you're not accumulating as much fat on your body as you used to. But asking for help from professional cleaners can also be a good practice once in a while, specially when you're in need of Airbnb cleaning and what nots
5. You won't get sick easily
The cleaner the home, the less likely are germs to spread everywhere. Some of the areas that are more prone to germs than others include kitchen sponges, toothbrush holders, computer keyboards, faucet handles, and coffee reservoirs. Making sure all of these are regularly washed and sanitized prevents the germs from spreading and leaves you healthy for much longer.
If you've noticed that you catch a fever easily, think about how often you clean all the areas and if you regularly sanitize them. If you can't remember the exact number of days you spend wiping the faucets or washing the holders and dispensers, you need to do it more often. 
Final thoughts
Keeping your home clean is essential for your health. Aside from being more prone to asthma and other breathing problems, you could also end up with a fever and more serious health problems if you live in an unsanitary home. Therefore, be sure you dust, vacuum, wipe, wash, and sanitize all the surfaces you touch on a daily basis, regularly. Not only will you stay healthy, but your home will look lovely as well.
Author's Bio:
Ayla Anderson is an avid reader and an enthusiastic blogger who writes articles on home improvement, business, Family, and beauty. She is also an MBA student who spends much of her time giving advice to new small businesses on how to grow their businesses.