When it comes to lymphedema, not everybody who has it feels the same amount of pain. Depending on the level of lymphedema you may have, you may feel less or more pain than a counterpart. However, there is often pain associated with the swelling, so you'll want to find any kind of muscle pain treatment whenever possible. Here are 5 things that can help you do this: 
1. Compression gear helps
Compression gear is something that many people with lymphedema use to help relieve pain. Because compression garments help to move fluid, they're useful for decreasing swelling, which typically helps there be less pain. 
Keep in mind that you'll need to speak to your doctor about the kind of compression that is needed for your specific needs, whether you need upper extremity lymphedema treatment or lower extremity help. Also, if you're worried about how you'll look with compression garments, don't worry—there are plenty of stylish compression gear that can help you relieve pain while looking on point. 
2. Healthy habits are beneficial 
When it comes to managing your lymphedema pain, the secret is found in managing the swelling. Much of your inflammation management will come from good healthy habits. Because inflammation can be caused by foods you eat and can also be decreased through a specific diet, it's important to take a look at what you are eating on a regular basis.
Lean protein, anti-inflammatory vegetables, and supplements can be beneficial for decreasing swelling and also helping you manage your weight, as obesity can also be a factor in lymphedema swelling. While it can be hard to eat well, follow a cookbook like Blue Zones Kitchen or order a healthy food subscription to make it easy for you. Exercise is also very important for pain and inflammation management. 
3. Massage treatment is helpful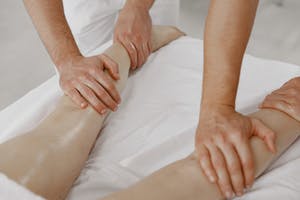 A treatment that is helpful is a manual lymph drainage massage. This is something that can be done with a physical therapist who may also help you practice some focused exercises to help you move fluids or you can use a sort of compression pump that can do the same job as a professional massage would do. 
4. Take care of your skin
A little-known fact for those who have only recently been diagnosed with lymphedema is the extreme importance of skincare. Little cuts and dry skin can result in serious infection, so even if it's hard to adjust to a skincare routine, make it a priority so you can avoid infection at all costs. 
There are some great organic products on the market, so shop around for everything from cleansers to moisturizers so you can avoid any issues with dry skin or infections down the road. 
5. Consider liposuction if needed
Liposuction may be helpful for those who have a more advanced stage of lymphedema. While it's not the solution for everyone, for those who are dealing with serious swelling, it can greatly improve your quality of life. 
If you're wondering if liposuction will benefit your specific level of lymphedema swelling, speak to your medical provider about it. Your doctor will be able to determine if that's the solution for you or if another course of treatment is a safer and more beneficial option. Keep in mind that not every health insurance provider will offer coverage for a procedure like liposuction. 
Conclusion 
Whether you have lymphedema swelling in your arm, legs, or neck, the reality is that it can be a painful condition to live with. Fortunately, there are ways to treat or manage your lymphedema, and while at the moment, there is no long-term cure for it, working with your health provider to manage swelling and pain can benefit you in many ways. It isn't fun to get diagnosed with lymphedema, but there are ways to improve your quality of life while living with it.