Workout gear are clothes worn to a gym, fitness center or health club with the aim of engaging in physical activity. Due to the increasing number of gym brands, buying workout gears can be a difficult task. Several brands overcharge for a given level of quality. Some charge less, just for items that aren't worth it. Don't get caught up in consumerism and deceptive advertisements.
You can find value if you are wise enough to know what to look for when purchasing something. There are lots of factors to consider when buying workout gears.
In this post, I've outlined five factors to consider when buying workout gears. They can appear to be a lot, but once you've become accustomed to them, you'll make much faster decisions when purchasing any product. So what do look out for when buying workout gear?
1. Consider Your Body Comfort
Any rough clothing that might choke or irritate your skin during repeated activity should be avoided. Choose materials that allow you to move freely and do not restrict your movement. Fit is more important than size since certain workout clothes are smaller and more form-fitting than standard clothing. You should select your sportswear based on your body type.
Look for clothing with a low percentage of spandex on the tags. This allows for more freedom of motion during exercise while still providing a very comfortable fit that isn't skin-tight.
2. Anti-Perspiration Ability
You should be sure if your base layer will keep you dry and relaxed, especially if you're going to be sweating a lot. Look for a combination of polyester and lycra or another synthetic material. Even when wet, these materials keep you warm in the winter and cool in the summer, and they dry quickly. Wool and bamboo workout shirts, if you choose natural fabrics, naturally wick moisture away as well.
3. Look Out For Perfect-Fit Gears
Although it can be tempting to hide behind baggy layers, wearing an outfit that flatters you and highlights your assets can make you feel more secure and assured. You'll be more likely to exercise if you feel good about yourself. Workout wears fashion trends come and go, but the basics never go out of style. Keep your classic black yoga pants and add one or two more trendy pieces to your wardrobe (such as a successful T-shirt in this season's "hot" color).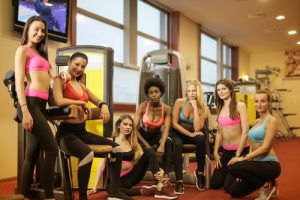 4. UV Protection
Many modern workout gears have anti-microbial treatments to prevent odor, and some have built-in UV shielding to keep you safe from the sun's harmful rays. If you exercise after dark, you can purchase glow-in-the-dark or luminescent jackets and running pants to help you stay visible. If you're worried about Lyme disease, look for clothing that contains permethrin, a synthetic form of chrysanthemum's natural insect repellent.
5. Check If They Are Appropriate For Workouts
Baggy workout gears won't keep you hidden while you're walking or spinning, and flowing tops won't keep you covered in yoga class while you're doing downward dog. Consider your favorite hobbies to make sure the clothes you purchase are both comfortable and fitting for them. 
Most people can't go wrong with a pair of tailored workout Capri pants and a fitted performance top, but always try clothes on before buying — and do a couple of your signature workout moves in the dressing room to be sure.
Final Thoughts
The importance of wearing appropriate clothing increases as you exercise more often. Now that you know what to look for when buying workout gear, you need to out them into consideration next time you plan to buy. The right fitness outfit not only keeps you relaxed, dry, and cool, but it also makes you feel like a million bucks. So look for gears that excite your body physique so you can hit the gym with swag.