Going to the gym and exercising there is a good habit, but sometimes life gets in the way, and you can't make it there. That's why it's very important to have weight loss equipment at home. Staying fit is essential for everyone. A home gym allows you to exercise without having to go out of the house. According to the US Department of Health and Human Services (HHS), adults need at least two hours and 30 minutes of moderate exercise per week, one hour and 15 minutes of vigorous exercise per week, or a combination of both. 
The HHS also recommends that you spread your workouts throughout the week and include muscle-building workouts at least twice a week. There are some of the best weight loss equipment which people usually prefer when doing exercise at home, such as:
1. Treadmill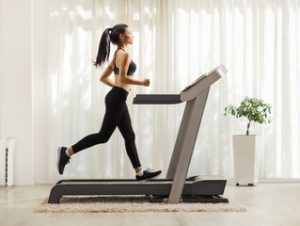 There's a reason many people turn to the treadmill when exercising to lose weight: it offers the highest calorie burn of all the cardio machines. It gives you full-body exercise. How many calories you burn on the treadmill depends on your weight and how hard you work. Roughly, you can burn 500 to 1000 calories per hour. Unlike outdoor racing, a treadmill is more secure, convenient, and private. 
Most treadmills, such as the Run Personal, have an outdoor simulation feature that mimics exterior scenes on a machine. In addition, these fitness tools are packed with many fun options. You can watch TV, and Netflix shows while exercising to make the best use of your time. You can buy a used treadmill for sale online too. There are different types of treadmills for home gyms. This means you can choose according to your budget or needs.
2. Exercise Bike
For the average person, a stationary exercise bike can burn more than 500 calories per hour. For the average person, a stationary exercise bike can burn more than 500 calories per hour. Just like the treadmill, a workout bike is safer than riding a real bike on the road. And also it is not affected by traffic, bad weather and bad roads. Home workout bikes help keep the lower body working, but they are also great for cardio. You can use them for interval training, which is considered to be more effective for weight loss. 
There are several factors to consider when choosing an exercise bike. Some bikes, such as the Recline Personal and Artis Recline, are designed for maximum comfort. Each bike gives you a slightly different experience. One thing all these bikes have in common is their adaptable resistance, which makes them ideal for beginners and experts alike. You will be amazed by the types of exercise machines available online. 
3. Rower

Rowers are intended to deliver rowing skills for watercraft. They are a great alternative to treadmills and ellipticals because they provide full physical exercise and burn about the same amount of calories. Best of all, they are low-impact machines, meaning they do not put too much pressure on the joints. In addition to losing weight, rowers are best for strength and cardio training. Skillrow, Technogym's rower, is more relaxed to use and has adaptable resistance.
4. Multifunctional Bench

A multi-functional bench facilitates multiple exercises. You can use it to compress the chest with dumbbells, crunches, step-ups, incline pushups, elastic band exercises, and many more exercises. Due to their multiplicity, multi-functional benches provide full-body exercise and burn more calories. Technogym Bench comes with five pairs of hexagonal dumbbells, three braces of resistance bands, each with different resistance levels, weighted knuckles, and a training mat. These all tools are stored inside a small multi-functional.
5. Stair Climber

Climbing the stairs instead of taking the elevator is frequently recommended as a good exercise. Stair-climbing machines give the impression that you are actually climbing stairs. With this machine, you can climb stairs safely and for maximum benefits. Unlike a treadmill, the Artis Climb allows you to perform a variety of exercises, such as jumps, lunges, single-foot pushes, side hops, and more. So, you can style up your workouts and burn more calories in the process.
6. Small Multi-functional Tools:

In addition to sophisticated weight loss machines, you can also lose weight with simple tools, such as elastic bands, a wellness ball, and a jumping rope.
1. Elastic Bands:
Elastic bands help you do a variety of exercises such as squats, shoulder straps, and deadlift rows. You can constantly burn more calories by using elastic bands with higher resistance.
2. Wellness Balls:
Wellness balls enhance flexibility in your routines. It means that you never get tired while doing exercise with a Wellness Ball. You can also do many exercises, which include walkouts, plank steps as well as crunches.
3. Jump Ropes:
Jump ropes are also very effective for weight loss. In particular, they are reasonably priced and get the best results.