Preparation is key for fitness instructors and personal trainers. Designing new exercise techniques and routines to keep your clients on track and motivated can be time-consuming, but it can yield great results.
Although you may not know, getting the right health insurance policy when it comes to the health and safety of your clients is very important.
If you're a personal trainer thinking about how insurance for personal trainers works, this post is meant for you. Here you'll find important questions to consider in your decision-making process.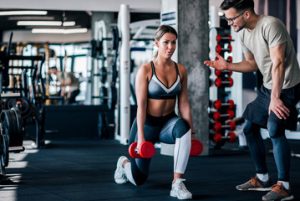 1. What Type of Insurance Do Personal Trainers Need?
Insurance for personal trainers is designed to offer protection against accidents that happen during training, leading to property damage and bodily injury.
Accidents and injuries are far too common for personal trainers. For instance, a customer could trip over weights left unattended from a previous training session, fall off a treadmill due to loss of balance, or even lift a weight in which a pin has been improperly inserted, resulting in an injury. Personal trainer insurance will cover any costs if you're held liable.
General Liability Insurance
This type of insurance protects you against any third-party claims due to property damage and bodily injury. If a customer is injured during a training session, you may be held responsible for medical bills and missed wages. A general liability policy will cover these costs.
Professional Liability Insurance
Also referred to as errors and omissions coverage, professional liability insurance protects your business against claims from clients who suffered harm following your professional advice. For instance, if you recommended a supplement, which causes severe side effects, which in turn leads to a claim, this insurance will come into play.
So, as a personal trainer, you should have these two policies. A comprehensive insurance policy should protect both the business owner and employees. Having the right coverage means you're protected against any business-related lawsuits.
2. What Types of Occurrences Need Coverage?
When buying an insurance policy, it is important to understand what activities are included in your coverage.
For instance, if coaching and nutrition guidance are key components of your clients' sessions, you need to select an insurance policy that includes all these aspects. If you are unsure whether a given policy is good for you, you can ask for a sample policy before you buy it.
3. Am I Covered Wherever I Train?
A general liability policy will actually cover you no matter where you train. Even if your business includes public park training, in-home training, or training clients at a different gym, you'll be covered.
Even if you're training clients at a facility that has a general liability policy, this policy is likely to cover employees and not personal trainers at the facility. You'll need an individual policy that will cover you against defense costs or medical bills resulting from accidents and bodily injuries.
4. What's the Ideal Coverage Duration?
In recent years, the standard annual policy was the only general liability coverage available for personal trainers. However, this policy is not enough for the needs of many personal trainers with varying client load as well as varying schedules.
Whatever your needs are, it is important to buy an insurance policy that is specifically tailored to your needs.
5. How Much Will I Pay for Personal Trainer Insurance
Sometimes there are many unexpected costs that emerge when opening a new business. However, you might be surprised at how affordable insurance for personal trainers is, especially after considering the kind of protection it will offer.
Key Questions a Personal Trainer Need to Ask New Clients
As a personal trainer, it is important to know your prospective clients well before deciding to train them. But many personal trainers don't know the right questions to ask to help evaluate their potential clients better.
Here are some questions to ask your new clients before you schedule them for their first workout session.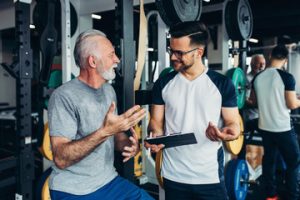 Do You Have Any Medical Condition?
This is a critical question to ask upfront as there are some medical conditions that you might not be qualified to handle. For instance, a general personal training certification is different from certification for training people with heart disease, diabetes, or those who are morbidly obese.
What are Your Goals
It is also important to inquire about the short and long term goals of your client. Why are they hiring a personal trainer in the first place?
Through this, you'll be able to determine whether you're the best-qualified person to help them achieve their goals.
What Does Your Daily Nutrition Look Like?
Ask your new client about their daily nutrition habits. Also, get a list of food items they are allergic to. This will prevent you from recommending a nutritional supplement that may contain those allergens. By knowing more about their current food habits, you'll understand where their nutrition is lacking and what you would recommend for them so they can achieve their goals.