Every occasion requires different lip shades. You don't want to look boring on a girl's night out, to look wild on a Sunday service, and to look like a bad girl in front of your boyfriend's parents, right? Choosing the right shades for every occasion has always been a must.
Have you ever tried any Korean make up? The beauty trend no-makeup makeup look started from Koreans and their beauty products to enhance their natural look. While some people alter their natural look to fit into society's beauty standard, Koreans think otherwise.
3 Concept Eyes or 3CE is StyleNanda's cosmetic company that offers beauty products fit for teenagers, young professionals, and women young at heart. The brand is known for its color schemes suitable for almost every skin tone.
Aside from the aesthetically-pleasing packaging, their products also offer a long-lasting color payoff. They are most famous for their lip products that guarantee you a bang for your buck. Did you know lip products can make you look more sophisticated and well-composed?
Let's begin with their best-selling lip shades and products suitable for every occasion.
1. For job interviews and office wear
Office looks are more discreet and conservative, but some employers do not make a big fuss out of it. Depending on your line of work, some interviewers base their decision on how you present yourself. In most cases, you may be required to wear a more professional look.
We recommend you to wear shades that look natural yet professional like 3CE Soft Lip Lacquer #Explicit, #Shawty, or #Tawny Red. These shades do not look too bold and too dull.
 2. For a casual, lazy day out
Nude is the way to go for most lazy days as it easily pairs with different casual outfits. May it be your weekly grocery shopping, Sunday stroll, or just a relaxing walk in the park, nude is the shade that can make you look good and feel good on a simple day.
You should try Velvet Lip Tint #Drizzle Love or Cheeky Rose. These tints are highly buildable. You can go for a gradient look or a darker look to make your lips look fuller.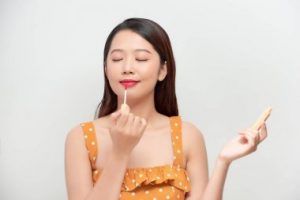 3. For a girl's night out
A golden rule during a girl's night out is always to wear red lipstick. Never skip red lipsticks if you are looking for a potential partner on your night out. A particular study at Manchester University has shown that men pay longer attention to women with red lips. The study has also shown that lip sizes do not matter as long as you are wearing brighter shades.
We recommend you to check out Red Recipe Matte Lip Color #212 Moon or #215 Ruby Tuesday. You may also cheat your way through a highly pigmented lip tint that can last all day long. Try 3CE Tattoo Lip Tint #Luztic or #Coolest. These tints do not smudge even after eating or drinking; a perfect night outs must-have!
4. For family gatherings
Family gatherings can give you a hard time if you have a not-so-good relationship with your relatives. Some of them could also be very conservative. For this occasion, you should go for safe shades like nude or pinkish shades.
Mood Recipe Matte 2 Color #221 Mellow Flower or #220 Hit Me Up are two of the best options you should consider. These shades look soft but scream simplicity and elegance. This lipstick is highly buildable; layer at your discretion.
5. For date nights
Romantic date nights require shades that can make you look classy and just-right seductive. Lip shades that leave an impression on everyone who looks at you are the perfect shade to use. The classic red lipstick will never be wrong for a romantic, intimate date night.
Complete your look with 3CE Red Recipe Matte Lip Color #215 Ruby Tuesday or #214 Squeezing. Make sure to give your man a hard time taking his eyes off of you!
On a final note,
Lipsticks have been a symbolism of women's power and confidence since the beginning. The right application of lipsticks can make your lips look fuller. It can make you look good and feel good about yourself. Wearing lipstick is good, but choosing the right shades for every occasion is on a different level. We hope you enjoy the lip shades we gathered for you!