You may have noticed fitness companies taking a shift from traditional advertising and getting creative with their methods. As the world moves forward in the COVID-19 pandemic, many brands are choosing to boost engagement by launching several campaigns revolved around health and fitness.
Not only are fitness marketing campaigns excellent for promoting your brand, but it's a topic everybody keeps talking about. From Instagram influencers, Facebook business pages, big YouTubers, and celebrities online, the possibilities are endless, and it is very doable to combine fitness ads with your target niche.
Keep in mind that your fitness campaigns should complement your sales and not dominate them. Here is how to go about it.
3 Key Elements of Successful Fitness Campaigns
1. Storytelling
Storytelling is at the heart of not just content marketing but every fitness campaign. Think about Nike and how the company started. They're not just about selling shoes but invoke emotion to grow big and be able to achieve whatever dreams one sets their mind onto.
When Nike launched their famous "Just Do It" campaign, it was inspired by a runner who committed to running daily, and the ad subtly told his story throughout the journey. The best fitness ads have a big "why" behind them.
2. Brand Loyalty
Customers want transparency, and businesses want brand loyalty. Consumers are willing to travel all the way to try out a businesses' services when the brand is open to its following.
Brand loyalty should be integrated with your campaigns. Some ways you can build it up are by offering referrals, loyalty awards programs, and special discounts or coupons for spreading the word. You can start using custom hashtags for your brand and promote them on platforms to boost online engagement.
3. Community
Social media platforms are a great way to build brand communities and give exclusive insider access to many perks. From online conversations, hosting cooking classes, and sharing secret tips, building a community is a fantastic move long-term.
Top 8 Fitness Ideas to Boost Brand Engagement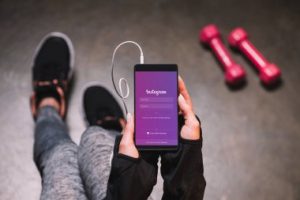 Here are the top 8 fitness ideas to boost brand engagement.
1. Online Fitness Group Events
People crave connection, and you can give it to them by creating an online community. You can invite your audience to real-life meetups or events from there and boost sales.  Your products/services can discuss healthy lifestyle, cooking classes, recipes, tips, and more.
Invest in professional photography and hire fitness models to promote your products and push body positivity. Create and schedule various fitness events in your online groups so that people show up and participate. In short, make it official.
2. Live Stream Workouts
You can host live streams or do daily workouts and invite your following to show up every day. Daily fitness workouts are a great way to boost engagement and will make sure everybody stays tuned in.
The key ingredient is adding variety to your sessions and making them enjoyable. Don't repeat the same workout routine twice. The best live streaming platforms are YouTube, Twitch, and Instagram Live.
3. Email Marketing Campaigns
Email marketing campaigns are a great way to build a loyal subscriber list and keep in touch with your clients. Emails are personal, and members stay hungry for personalized content, so retention and open rates are higher for new campaigns. Brands can directly interact with customers and keep them coming back for more, even after the COVID-19 crisis.
You can email fitness guides and free eBooks to your loyal followers as freebies from time to time.
4. Slimdown Group Challenges
When summer's right around the corner, you can stat slimdown group challenges. There are many fitness enthusiasts who want to get in shape and achieve that perfect beach summer body.
You can promote attractive offers and unique programs for weight loss. New members can sign up for a special price, and the winner gets exclusive membership and insider bonuses to your brand. Slimdown group challenges are ideal for the New Year and Christmas too.
5. New Members' Programs
You can create free fitness programs for new members or offer a free 1-day training event.  This is when they will get the exciting opportunity to sign up for a free training session with your brand's coaches. This is an awesome way to land leads and later convert them to loyal clients.
Newbies can test the waters out with your brand and spread the word once they're happy with your services. It may seem like a lot of effort to arrange free training, but it's definitely worth it.
6. Q & A Surveys
Do you know those questions people keep asking about your brand and want answers to? You can generate tons of content using them!
Do Q & A surveys and post them on your brand's Youtube channel. You can start doing live Q and As where people can tune in online and ask you in real-time about what you're doing, your products/services, etc.
Not only will this give clarity on your mission, but new members may get more willing to sign up. There's nothing to lose, and outsiders can get access to this content for later viewing. You can collect ideas for a new marketing campaign this way and catalog them.  Live Q and As are also a good way of ranking higher on Google's Search Engine.
7. Meal Plans
One of the hardest parts of fitness and lifestyle is quality nutrition. Meal guides make it easier for your audience to lead a healthy lifestyle and not compromise on their goals.
A meal plan fitness marketing campaign is packed full of value and also helps in collecting different responses. You will learn about your audience, understand what they're going through, and customize them based on their requirements. You can also ask for their names and emails to add them to your mailing list this way. It's a win-win.
8. Giveaways and Sponsorships
Giveaways are expensive, but they score massive brownie points. From brand new gym memberships, fitness shoes, bonus workshops, and free classes with personal trainers, you can make your brand stand out from the rest by going that extra mile.
The goal of your giveaway is to get new members and increase your chances of being discovered in the industry faster. Gym selfie giveaways are currently doing extremely well and make for great PR for your brand. This is where you ask your followers to take a selfie in the gym and post it using your brand's hashtags for a chance to win prizes.
Conclusion
There are many ways to inspire your followers, boost sales, and promote brand engagement. These fitness ad ideas show you how, and the key to marketing is staying human, transparent, and creative. Try them out and see how it goes.