Are you looking for the healthiest food to eat when you have a cold to keep your body kicking and speed up your recovery?
When you have a cold, you might experience difficulty eating. Even though this is an accompanying symptom of a cold, you must try to eat – not just eat but eat healthily.
Note that not all foods are healthy for you at this stage. There are foods you must avoid and those you must incorporate into your daily meal.
This article will show you the healthiest foods to eat when you have a cold.
7 Healthiest Foods To Eat When You Have A Cold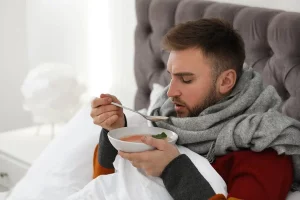 Food plays a vital role in speeding up your recovery process. Below are the seven healthiest foods to eat when you have a cold:
1. Chicken soup and Broth
Traditionally, chicken soup is known as the go-to food when you have a cold. Chicken soup provides your body with zinc, protein, vitamin A from carrots, and antioxidants from herbs. 
The National Library of Medicine stated that steaming a hot bowl of chicken noodle soup does not necessarily cure a common cold. Still, it can provide some relief from the agonizing symptoms of a cold.
Broth also contains warm elements that soothe a sore throat, relieve congestion and keep you from dehydrating.
2. Garlic
The immune–boosting capacities of garlic makes it one of the healthiest foods to eat when you have a cold.
Garlic isn't just a food flavoring agent; it is rich in flu-enhanced immunity that reduces cold and flu symptoms. A study backs up this claim.
Also, a study published in the 2014 Cochrane Database of Systematic Reviews was conducted on 146 volunteers on a garlic or placebo supplement daily for 12 weeks.  At the end of 12 weeks, the researchers found that the volunteers who received garlic supplements had significantly fewer colds than those with a placebo.
Eating garlic in its raw stage is more beneficial than taking garlic supplements.
3. Spices
Spices like turmeric and ginger are among the healthiest foods to eat when you have a cold. You can add these spices to your food to ease cold and flu symptoms.
These spices are rich in anti-inflammatory properties that beak congestion. Add them to a cup of a hot tea or water with lemon for added effectiveness.
4. Pepper
Peppers, including red bell and cayenne powder, help thin mucus to relieve nasal congestion. A 2016 study published in the journal Current Allergy and Asthma Reports stated that capsaicin—the heating compound in spicy peppers helps suppress coughing fits.
Additionally, you can add a pinch of grounded pepper to your broth, soup, or tea.
5. Raw Honey
Raw honey is one of the healthiest foods to eat when you have a cold. The anti-inflammatory and antimicrobial properties help to relieve coughs among children suffering from colds.
A 2018 study published in the journal AIMS Microbiology stated that raw honey helps to boost immunity and protects people from various viruses and bacteria.
If you have a cold, add some raw honey chamomile tea and consume it before bedtime.
6. Vitamin C Rich Fruits and Vegetables
Vitamin C is an essential nutrient that helps to boost your immune system when you are ill, including when you are having a cold.
Food remains the best source of vitamin C. Below are some of the best food containing vitamin C. They are as follows:
oranges

grapefruit juice

red or green pepper

kiwi

broccoli
You can also take vitamin C supplement, but it is less effective than natural food.
7. Leafy greens
Leafy green is also one of the healthiest foods to eat when sick. Leafy greens, such as kale, spinach, and other leafy green, are rich in immune boosting nutrients that boost your immune system when you have a cold.
You can add them to food or a fruit smoothie and eat them raw with a drizzle of olive and lemon oil.
What Are The Foods You Should Avoid When Having a Cold
Below is the best food you should avoid when having a cold. They are as follows:
Fatty foods

Alcohol

Processed foods

High-sugar foods

Tobacco.
Conclusion
Nutrition plays a significant role in relieving you of colds and speeding up your healing process. The above-stated seven foods are a must if you have a cold. In addition to nutrition, ensure to take your prescription as directed.