Nigerian tomato stew is one of the most popular Nigerian meals. It canbe easily prepared by almost anyone, and can also be made using a variety of methods. Nigerian stew is a favourite meal for every Nigerian family. It is usually eaten with white rice (and mainly on Sundays too, "Sunday rice"). But it can also be eaten with yam, potatoes, plantain and even bread. I love making stew, and I'm sure you do too. However, since it is always recommended that you make your Nigerian meal healthy, you have to know how to make healthy Nigerian stew.
In this article, you will learn how to make Nigerian tomato stew, how to make oil-free tomato stew and above all, how to make healthy Nigerian stew. A simple recipe will show you the necessary ingredients and methods to make your stew nutritious. Eating healthy equates to living healthy, so make sure you read this article carefully and learn from this helpful article.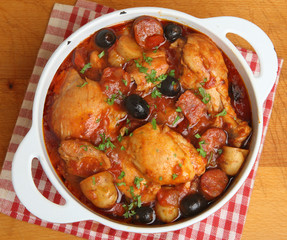 How To Make Healthy Nigerian Stew
To make your tomato stew healthy, you need to consider the following things. First, you need to use healthy ingredients to prepare your meal. Ingredients that are fresh, clean and highly nutritious should be used for cooking. Second, practice healthy cooking methods. Frying, Boiling and steaming are all cooking methods that are healthy cooking methods. You stew should also meet your health demands. For example, if you are battling with cholesterol, you should opt for oil-free stew or a little amount of oil. Another Instance is if you are pregnant, you need to eat healthy Nigerian foods for pregnancy.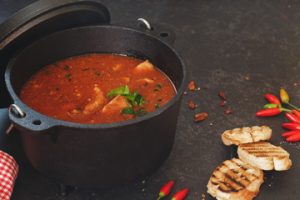 Healthy Nigerian Stew Recipe
Most people have opted to make their stew healthy by reducing oil or adding no oil at all (oil-free tomato stew). So I'll give out two recipes in this article. One with oil and the other without oil.
While stating the steps of preparing the stew, I'll add things you should do to make sure the stew is healthy.
INGREDIENTS:
For healthy Nigerian stew
8-12 large fresh tomatoes
1 sachet/tinned tomato paste, which is optional.
2 large onions bulbs
2 large red bell pepper (tatashe)
Curry powder
Thyme
2 Green Bell peppers
Two scotch bonnet peppers (ata-rodo)
Seasoning cubes.
Salt
2 small garlic cloves
Half cup vegetable oil
Fish, chicken or meat stock.
Spinach
PROCEDURE
1. Wash all the ingredients thoroughly, especially the meat stock. All the cooking utensils should also be cleaned or rinsed.
2. Chop the tomatoes, bell peppers, and onions in small sizes. Blend them once at a time, so that they are all appropriately blended.
3. Put the blended mixture in a pot and cook it for about 20 to 30 minutes. This will help reduce the acidity of the tomatoes and help the tomatoes dry, hence easing the frying process.
4. Parboil your chicken, fish or meat stock with herbs, seasonings, spices and salt. Drain off the fats on the surface of the meat stock. You should grind your garlic clove and add it at this point. Garlic is a very healthy herb, with amazing health benefits.
5. Add vegetable oil to a new pot, add 1 sliced onions and fry for 2 minutes. Keep the heat at a minimum. Olive oil is another healthy oil that can serve as an alternative. Using cholesterol free oil is good.
6. Add the sachet or tin tomato paste to the pot and fry for about 3 to 5 minutes. Then add the dried tomato mixture and fry for about 10 minutes.
7. Add the meat stock to the tomatoes stew and stir at intervals. Keep the heat at a minimum and taste regularly to check if the raw or sour tomato taste is gone.
8. Wash the spinach leaves, chop them into small pieces, and put them in the stew. You can also use vegetables, scent leaf (ahigbu), or curry leaf.
9. Stir for a while and turn the heat off. Serve with white rice, brown rice, plantains or potatoes.
READ NOW: Healthy Nigerian Foods For Pregnancy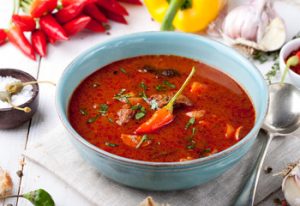 Healthy Oil-Free Nigerian Tomato Stew Recipe
Many Nigerians prefer to eat foods that are low in oil or with one at all. That is why they have resorted to eating oil-free Nigerian stew. This is a healthier option and is friendly to the heart. The recipe is as follows:
INGREDIENTS:
10-15 tomatoes
2 sweet onion bulbs
2 red bell peppers
Thyme
ground red pepper
Vegetables
Meat stock
Seasoning
PROCEDURE:
1. Chop the tomatoes, onions and bell peppers and blend them in a blender till it is smooth.
2. To make the smooth mixture while blending them, you can add water, but that will increase the time it will take to boil.
3. Add the blended mixture into a pot and boil till the water had dried out. This make takes around 1 or 2 hours.
4. After the tomato mix is dry, you can change it to a smaller pot.
5. Pre-cook your meat stock with little water. Then add it to the dry tomato mixture.
6. You can then add your veggies at this point. Add little amount of salt or none at all, if you want to avoid salt. Allow it to boil for some time and turn the heat off.
7. Finally, Serve your oil-free tomato stew and eat with your favourite kind of rice, spaghetti or even eba.
Conclusion:
You can eat a very healthy Nigerian stew always. The choice is yours to eat nutritiously so that you can live efficiently!
Thanks for reading.