Whether you enjoy the therapeutic effects of cannabis recreationally or as part of an ongoing medical treatment regimen, consuming cannabis edibles is a discreet and convenient way of getting your needed dose of marijuana. Cannabis edibles are food items that have been imbued with a specific amount of cannabis as part of their ingredients. They are usually available from cannabis stores, dispensaries, or online shops. Some of these even deliver marijuana goods right to customers' doorsteps, such as FlyBuds marijuana delivery service in California. 
It must be said, however, that the effects of consuming cannabis through edibles are quite different than when it's consumed through smoking or vaping. This is mainly because of how the digestive process deals with THC, the main psychoactive compound in marijuana. When cannabis is digested, the THC content is metabolized by the liver into 11-hydroxy-THC. 
This compound is even more potent than THC and has a much easier time bypassing the blood-brain barrier. This means that the typical high and euphoria you get from marijuana will last longer and feel more intense. You may even experience hallucinations and other sensory phenomena, especially if the edible you're consuming has a high THC content. As such, it's always better to start slowly with cannabis edibles. Alternatively, you can and space your consumption out generously, or only take in half or quarter portions at a time. 
With that warning out of the way, it is worth noting that the modern cannabis consumer is spoiled for choice when it comes to cannabis edibles, especially for the types that you can consume as snacks. As such, if you're looking into enjoying cannabis in a fun, tasty, and convenient way, then consider our favorite picks listed below.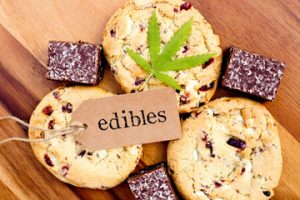 Gummy candies
Who doesn't love gummies? These tangy treats offer great flavors in a chewy texture that isn't hard to like. If you've always been a fan of gummy candies, then you may want to try out their edible cannabis counterparts, which are available in many different flavors, shapes, and cannabis content. With how small and bite-sized they are, these THC-enhanced gummies are perfect for micro-dosing during the day, or as a late-night treat to help you ease your stress and anxiety before you fall asleep. You can check out some cannabis edibles for sale, and get the best CBD gummies.
Cookies
Another childhood favorite, cookies are a snack that's guaranteed to lift your mood no matter how low you're feeling. Combine this with cannabis's relaxing effect, and you'll be able to unwind from a bad day with great ease. Just like gummy candies, cannabis cookies are perfect as a daytime snack or as a nighttime treat to whisk away pain, anxiety, and stress. Just remember to not eat in bed; otherwise, the crumbs will probably attract (and stone) some ants!
Crispy cereal treats
Combining cereals and melted marshmallows into a bar-shaped treat sounds like it shouldn't work, but it definitely does! Add cannabis into the mix, and you've got an edible that you'll definitely find very hard to resist snacking on, what with its delicious flavor and its unique texture that sublimely combines chewiness and crispiness. Enjoy this on your own, or break it in half to share with a friend.
Brownies
The brownie may be relatively simple and uncomplicated as a snack, but that doesn't stop it from being one of the most popular and beloved treats enjoyed the world over. Its bite-sized nature, along with its rich and creamy chocolate taste, will never fail to be a winning combination. Of course, this also means that its cannabis edible version is just as popular among cannabis enthusiasts. Experience the same great home-baked goodness of this classic American delight, but with a pleasant twist that ends in a relaxing trip. For best results, enjoy it warm with a side of vanilla ice cream.
Cupcakes
But what if you're less of a brownie fan and more of a cupcake person? If you are, then you'll be happy to know that pre-baked cannabis edible cupcakes also exist, and sold in many different flavors. Just pop one into your mouth, chow down, and you'll be as relaxed as you need to be for a good night's sleep. You'll also experience a long-lasting relief against any nagging pains or anxieties you're currently experiencing.
Try cannabis edibles for a discreet yet flavorful way of enjoying marijuana
If you've grown bored of vaping or smoking marijuana, or you simply want to keep enjoying weed's therapeutic effects without dealing with the health risks associated with smoking, then you should definitely consider trying out cannabis edibles. They're convenient to use and appetizingly flavorful, and their effects are just as potent—if not more so—than smoked or vaped cannabis. You can also buy weed online, if you feel like it. Just remember to pace yourself and be patient, as it's very easy to overdose yourself into an unpleasant experience!
ALSO READ: