TV is an acronym for television and it's an electronic device with a screen used for receiving visual signals. Watching TV is one of the ways of relieving stress after the day's activity. Some important tips are to be observed while doing this so you can stay healthy while getting rid of stress.
Therefore, when relaxing and trying to get rid of the day's stress watching the telly, it's best to do it the right way. However, watching TV often can make you sedentary and negatively impact your health. Most people who watch TV a lot engage in little or no physical activity, and have a poor diet. Nonetheless, you can actually watch TV while doing some things that can benefit your health.
There are many useful things you could try out while watching TV. This beneficial article discusses some healthy things to do while watching TV
8 Healthy Things To Do While Watching TV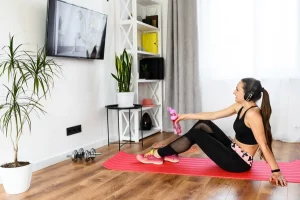 Here are some important things you can do while watching TV simultaneously:
1. Snack on something healthy
One of the most unhealthy things most people do while watching TV is to snack on processed or junk food. However, if want live healthy, snacking on something healthy while watching a television can do your body much good. Eating healthy snacks can increase nutrient intake, sustain energy levels, help curb unhealthy cravings, and help the body recover from exercise. Some healthy snacks you can eat while watching TV are dark chocolate, carrots, dry fruits, almonds, edamame, apple slices, greek yogurt and mixed berries.
2. Stretch
Instead of being sedentary while you watch the television, you can consider engaging in some stretching exercises. Performing a simple stretching routine instead of sitting down on your couch while watching TV will add more movement to your day, which also improves your overall health and wellbeing. Some stretches you can do while watching TV include lower back stretches, arm stretches, and hamstring stretches.
3. Keeping your washed clothes in place
You've just brought in your dried laundry from the line and it needs to be arranged and properly folded into your wardrobe. You could do this alongside watching your favorite tv programs. This is more like killing two birds with a stone which helps you do two things at a time.
4. Settling the bills
While watching the news or an interesting movie series, you can use that period to pay up your outstanding bills. Since everything can be done online, this allows you to pay your bills while in front of your TV screen.
5. Prepare your next meal
It's been discovered that you spend more when you eat out, not minding the quality of food consumed. While sitting in front of your television enjoying your movie, you could use that opportunity to cook your next meal. It saves more money and helps you prepare the food to your taste and quality.
6. Give your partner a massage
If you're watching a movie with your partner, you could give her a light back, shoulder, and feet massage. This is a romantic way of enjoying your favorite TV program with your spouse and it breeds more intimacy. Conversely, you can also give yourself a massage while you watch your favorite TV show. It is better to make use of a massage gun.
7. Make a shopping list
Making a list of items you need to shop on while watching TV, helps you to not go beyond your budget. It also helps you to list out the needed items, and not just random things. So instead of waiting till you get to the store before picking randomly, why not make a list while watching telly.
8. Workout
While sitting in front of your tv screen, you could try out some exercises that would help you burn some calories. Why wait to visit the gym before exercising when you could do it in your sitting room while watching TV.
Conclusion
Carrying out other activities while watching an interesting movie could be difficult as you don't want to miss any scene. However, you could achieve this by listing out things to be achieved for the day.