One specie of dogs any dog-lover would love to keep at home is a golden retriever. Golden Retrievers are security-minded, strong and playful dogs. Therefore, every pet owner of these lovely dogs should do everything possible to give these pets the best treatment they can afford. This include training, feeding, grooming, and entertaining them in the healthy way.
In this article, we shared some tips on how to keep your golden retriever healthy. Perhaps you keep one or you're planning to get one, you landed on the right page. Please, read this article carefully to the last letter if you care about the health status of your dog.
1. Feed Them High Quality Feed
A very good quality diet ensures that your dog gets the finest of the finest, which implies that the formula has all of the vital nutrients. There are specific dog products for golden retrievers in different stores or malls. So, that's where you should begin.
2. Maintain Your Dog On A Feeding Routine
As your golden retriever grows older, his or her feeding pattern will change; for example, while he or she is still a little puppy, he or she may have the strong desire to eat up to four (4) times each day. As your dog gets older, the feeding pattern may take a turn.
3. Have Access To Fresh Water
Your dog should have access to water every single moment during the day, and it should be replaced at least once a day. For whatever reason, do not turn off the water supply.
4. Groom Your Dog Daily
Golden retrievers have lengthy coats that can be wavy or smooth, but they should be groomed once a day to minimize matting and frequent shedding. If you start the grooming with your dog when he is young, he will not cause you any troubles.
5. Keep The Ears Clean
Due to the fact that golden retrievers have large ears, it's important to keep them clean and free of debris. Keep in mind that dogs with large ears are more prone to ear infections, so examining his or her ears on a frequent basis will ensure that they are healthy and clean.
6. Exercise Regularly
You should exercise your golden retriever every day because they are very agile and fit. Make every effort to get him or her outdoors for a half-hour exercise each day. It doesn't matter if you take your retriever for a fitness walk or play yard activities with him.
7. Allow Your Dog To Interact With Other Dogs.
Allow your dog to get around other dogs so he or she may mingle with them and not be nervous or fearful of new dogs. It's also a good idea to expose him to kids,cats and other animals while he's young to avoid any unpleasant situations later on.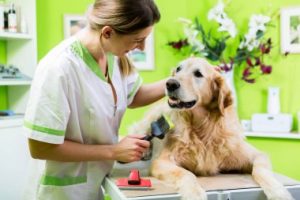 8. Visit The Vet Regularly
As a conscious owner of a golden retriever, you have to visit vet at least once a year to ensure your pet is updated on vaccinations. If your dog's DNA has any specie-related disorders, have him or her checked to discover what you should be aware of.
Final Thoughts
The eight tips shared above will have educated you on how to keep your golden retriever healthy. Keep the tips to your heart and do them accordingly to give your pet the best treatment they won't get any where else.