In this day and age, makeup is a really big deal – it's a way of expressing oneself and way of making ourselves look pretty, and regardless of how controversial it may be – makeup is art.
Aside from all the above, makeup can have a positive effect on our mental health, too. Many people believe that makeup and mental health don't mix together as they see makeup as something superficial, narcissistic, and shallow. However, according to many people, makeup is a good way to fight depression, anxiety, and many other disorders, including drug addictions. 
So, without further ado, let's see how makeup "therapy" can boost your mental health.
Makeup can help increase your confidence and sense of self-worth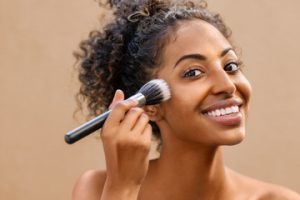 Believe it or not, makeup has healing powers – it can help you get a positive image of yourself; it can boost your confidence and self-worth. There are so many people that struggle with the lack of self-confidence and positive self-image, and they can't seem to find a good way to deal with it. 
Many different studies have shown that makeup is a good way to increase your confidence. Those who wear makeup feel confident and even smarter. Makeup also helps people deal with a distorted self-image, and it increases self-determination. So, the bad rap that makeup has had up until now is no longer as the effects of wearing makeup are so much more than skin deep.
Makeup can help you deal with anxiety and depression
Those suffering from anxiety and depression know how to hide their issues very well. However, dealing with these problems is not easy, and finding the right way to handle them and even to focus on something different is difficult. 
Thankfully, for many women and girls, makeup is a good way to deal when they find themselves struggling. Makeup routine has various benefits on the brain – it gives you stability and routine, it's something that you have control over, and it's simply a good way to be productive and creative.
And while both anxiety and depression are serious disorders, and you should definitely seek professional treatment for them, for some, makeup is a good way to alleviate daily struggles.  
Makeup can help you get out of your head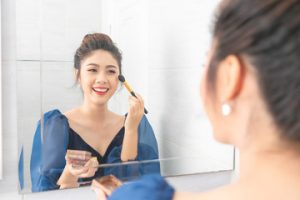 The lives that we lead are often too fast and too hectic to handle on day to day basis. Because of this, we are often stuck in our heads with negative thoughts and worries. Breaking this cycle of negative thoughts and pessimism can be difficult. 
Makeup can give us a hand in this, and it can give us something else to think about. Putting on makeup can give you an outlet – it gives you an opportunity to think about all the different ways that you can apply your highlighter or eyeliner, all the best eye makeup products that you can buy or your ever-growing collection of makeup brushes. You can't have negative thoughts when you're playing around with your makeup.
Makeup is a good way to treat yourself
Why do people, especially women, feel guilty when thinking about their self-care? Probably because they think they will come off as self-centered and vain if they decide to treat themselves. The thing is, you should stop feeling guilty about practicing self-care.
A good way to start doing this is with makeup. Take care of your skin by buying good cosmetic and makeup products. Indulge in different ways to enhance your best features, experiment with all the makeup we have nowadays. 
Don't let what others think stop you from caring about your well-being and appearance.
Makeup boosts creativity 
No matter what anyone says or thinks, makeup is art. Doing makeup can help you uncover the hidden artist inside of you. Just think of your face as the blank canvas and yourself as the artist – and there are no limits to your creativity. 
You can mix colors, blend them, use highlighters and eyeliners, you can do whatever you like. Makeup is a good creativity booster, and being creative has tons of benefits, from self-expression, stress-relief to freedom. 
Just don't forget that not everyone will like what you do. And don't forget that people will criticize you – but that's art for you – it's subjective, and it's in the eye of the beholder. 
It's finally time to break the stereotypes and bad reputation that follows makeup and those who love it. You are not vain, you're not a narcissist nor self-centered and superficial if you like makeup and you feel beautiful when you're wearing it. 
As you can see, makeup is so much more than just skin deep. It's a good way to boost your mental health, not just your appearance. However, let's not forget that while makeup can help you alleviate many different problems, it shouldn't be a substitute for seeking professional help.