Feet are the base and foundation of your body. However, feet care represents your personality. A person with a strong foundation and impressive personality can excel in life without limitations. A person who can't even take care of their feet is too procrastinating to struggle in life. For you to succeed in life, pay attention to the ways you can take care of your feet. It starts with personal hygiene that is cleaning and drying them thoroughly and buying quality footwear for its comfort.
Feet care is not limited to the foundation, but it has a great connection with the heart and the rest of the core of your body. Walking and jogging are some of the best activities you can pursue gaining higher heart points. Keeping your feet healthy and strong is mandatory for guarding your body against other odds and diseases. In this post, I am sharing some of the useful tips to keep your feet healthy and dirt-free without much effort. 
1. Clean the shoes
Cleaning the shoes is as important as cleaning your feet. You never know how many types of harmful objects you are carrying in the shoes. It might be a fungus from your sweat, stones from the backyard, or viruses from your last hospital visit. Therefore, it is always suggested to clean and disinfect the shoes. Your shoes can prove to be a great carrier for viruses.  
2. Repair shoes on time
Replace or replace your shoes in time to ensure your feet are protected from the unknown harmful things around. In general, the useful life of a pair of footwear is said to be three to five hundred miles. However, for you, it may be limited to your age, weight, style of walk or physical activity, and the surface of your usual walks. If the usage is rough then it is acceptable to replace them before you wait for the sole to subside or the soft part to tear apart. 
3. Invest in leather shoes
Leather is a natural gift that has countless benefits. Spend a bit higher than your usual shoes and consider it in investment in leather shoes as it saves you from various other health and hygiene issues. Leather provides extra protection and breathability with an extended useful life. It provides an unmatched comfort that no other man-made fabric can provide. With the advantage of being water-resistant, it is environmentally friendly and can easily be cleaned. Find a pair of the best shoes in Pakistan to ensure ultimate protection and a healthy solution for your feet. 
4. Clean and dry your feet
To maintain good hygiene, it is mandatory for you to regularly clean your feet and dry them before wearing shoes. Rub the heel, bridge, and ankle of each foot with a chemical-free soap while taking a bath. Water or any kind of moisture in your ankles can allow the fungus to grow which leads to a painful infection. Use tissue paper for drying each toe. 
5. Cut toenails 
You need to cut all the nails every week, however you must pay special attention to toenails.
The outgrown toenails can cause problems in fitting the right shoes, pain, and infection. Be careful in cutting the nails as removing them too close to the skin can also be painful and infectious.
Ignoring the toenails may result in ingrown nails that are deformed and need to be removed by surgeries only. They can also result in the growth of different types of toenail fungus, that may be damaging to your feet.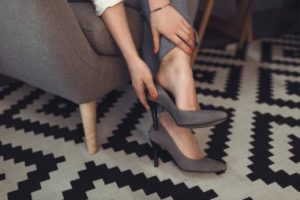 6. Wear best quality shoes
The quality of shoes directly impacts the health and hygiene of your feet. Regardless of the reason or purpose, you are buying for; always have the best shoes for yourself. If your job or work routine requires more walking and physical activities, try to wear joggers without worrying about decorum. However, people always prefer to wear formal shoes in corporate offices as they hardly have to walk. You can also consider buying and wearing orthotic shoes, which aids in balance.
7. Avoid sharing shoes
It is a common practice that people often share professional shoes in public places. For example, common shower shoes are shared in gyms and swimming pools. They often wear common skating shoes or floor shoes for playing nine-balls. Avoid wearing them all as you never know how many people have worn them before and if they are disinfected by the club or not. 
8. Buy footwear with better airflow
The intensity of your physical activity defines the type of footwear you must buy. Get to know the level of sweating in your feet too and buy a pair of breathable shoes. Leather is one of the main ingredients in the making of shoes that offer national breathability. Invest in the type of footwear you will be comfortable and safe from fungus growth. 
9. Have regular pedicure
Careful beauty treatments such as pedicures have healthy and hygienic effects. It removes the dust or dirt from the toes, nails, bridge, ankle, and heals the foot that accumulates despite the regular wash. It also refreshes the skin so any risk of getting an infection is also reduced with such a procedure. The different processes involved in a pedicure also relieve you from the stress that improves the overall health of a person. 
10. Have properly fit shoes
Shoes that are either too fit or loose fail to provide due comfort. One cannot take a few steps in tight footwear as it blocks the blood flow. It will deform the feet. Similarly, loose shoes will harm your feet as the skin will keep rubbing against the inner walls of the shoes. To avoid swelling or injuries, buy the shoes that fit you well. Do not compromise the size and fitting of the footwear in pursuit of wearing the latest design or style. The health of your feet is far superior to following the latest design trends.
11. See a doctor for infection
You may come across a broken or ingrown nail, cut marks, and feet infections despite taking care of the feet. It is always recommended to see a doctor who is well versed in knowing the form of fungus so that relevant remedies are suggested. They do take tests to know the infection as it can either be treated with cream, a liquid solution, or medication. Skin infection is often ignored, but it can be life-threatening for people living with a series of diseases.  
I hope the tips I have discussed above in the post may help you retain good health and hygiene in shoes and feet care. It is time to switch to a pain-free footwear experience. 
Author Bio:
Waqar Ahmad is a digital marketing professional and content writer at Oxygen Shoes— the first of its kind online shopping shoes brand in Pakistan. Waqar Ahmad enjoys reading and writing blogs about Fashion Trends, Technology, ecommerce and Entrepreneurship, and Innovations