Art can help dementia patients. Studies show that art therapy is extremely beneficial to people suffering from dementia. Benefits are all the greater when it comes to dementia patients with speech difficulty and challenges with language processing. This article explores some art therapy options for people with dementia. However, before that, let's take a look at the benefits of art therapy generally.
Top 2 Benefits of Art Therapy
Art therapy helps dementia patients feel calm and mentally stimulated.
Calming Effect – art therapy is calming because creating art triggers the brain to release dopamine. Dopamine is released when the body feels that we are doing something pleasurable. When the body is feeling pleasure, it feels more open, at ease, and relaxed. Dopamine is a feel-good neurotransmitter. Dementia patients greatly benefit from a consistent supply of dopamine. As well as people who are suffering from depression or anxiety.
Mental Stimulation – art therapy is effective in mentally stimulating dementia patients because it activates certain parts of the brain that affect emotions and brain wave patterns. Doing art also activates the nervous system and raises one's serotonin levels. Serotonin greatly helps in stabilizing one's mood and emotional state. It also helps in promoting healthy sleeping habits.
6 Art Therapy Options for Dementia Patients
If you want to help someone suffering from dementia, suggesting the following art therapy options will greatly be beneficial:
1. Painting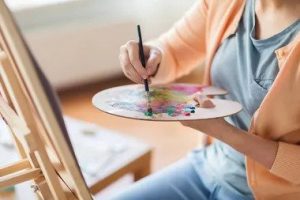 Painting is a lovely art therapy option. What's great with this is it can easily be done outside if the weather is nice. Nature painting is good because it relaxes the senses in a healing and soothing way, research even revealed that just being in nature is effective enough to reduce one's stress levels. This is why outdoor painting is hitting three birds in one stone. It increases one's dopamine and serotonin levels and decreases cortisol levels. Cortisol is our body's stress hormone. Stressed people have high cortisol levels.
If painting outside is not an option, you can still proceed with it even when indoors. Do it in a space where one can be fully relaxed and at ease.
2. Creative Coloring
If your loved one finds painting too intense or it just doesn't seem to match their personality, you can consider creative coloring. Creative coloring is fun because it's not painting but it equally gives the same effects. It's also very easy to do. All you need is a coloring book and colored pencils or crayons. Creative coloring for adults has been popular for the past years so you're not going to have a hard time looking for coloring books that will engage your loved one. Coloring books for kids will also do if that's what your loved ones prefer. If you can't buy coloring books, for now, you can simply download free coloring pages online. Faber-Castell and Crayola offer many coloring pages for free.
3. Dancing
Dance is good because it incorporates both art therapy and movement therapy. The American Dance Therapy Association shared studies that showed how movement therapy can help dementia patients in better communicating by using non-verbal behaviors. Dance as art also allows for emotional closeness. It would be wonderful if you could consider dancing with your loved one. Dancing also improves motor skills and increases one's dopamine levels. It also releases endorphins. Endorphins are feel-good polypeptides that boost one's feeling of happiness and relieve pain. Dementia patients that undergo art therapy through dancing also get to effectively build up and strengthen their self-esteem.
4. Music
Music is another potent art therapy option that is on the chill and relaxing end. It is so relaxing and soothing that it can easily reduce agitation. Studies even showed that it can greatly help in the behavioral improvement of Alzheimer patients. Music is so powerful that it can even soothe and improve the behavior of Alzheimer's patients that are in the late stages.
Music is good for dementia patients because it will relax them and soothe their moods. It will also allow them to easily connect and interact with other people. It can improve their spirit and even allow them to remember happy memories. This is why dementia patients under the care of Homestyle Aged Care spend time dedicated to listening to music alone and doing musical art therapy.
5. Simple Crafts
Simple crafts are fantastic because they will allow your loved one to feel accomplished. Arts and crafts projects are simple and easy to do and dementia patients always feel good whenever they get to finish one. Crafting also allows dementia patients to better express how they feel. Choose projects that will allow your loved one to fully express their personality. When looking for an activity, don't choose overcomplicated or too simple ones. Your loved one may feel bad if you'd give projects that are too child-like. They may find it demeaning. It's also best to stick to non-toxic and safe materials that they can work with for long hours.
6. Sculpting
Clay is healing and it will allow your loved one to feel seen and free. Sculpting through clay will allow your loved one to release all bodily tension. Consistently working on their project will allow your loved one to feel confident and empowered. Sculpting is highly mentally stimulating as it involves the active use of hands and numerous senses. It is effective in greatly boosting one's cognitive wellness. If you want your loved one to try sculpting, ensure that everything that they'd need is already available. Never rush them and ensure that they're always fully supported and guided every step of the way.