Often, injuries and health conditions may cause hospitalization. Whether long or a short stay, being in a medical environment 24/7, lying on a bed all day can be stressful as well as challenging. Moreover, if you are admitted for surgery, then it can take a toll on your physical and mental health as well. Also, the pain can depress you to a great extent.
Dealing with pain and recovery can often be intimidating. It is crucial that you should prepare yourself sufficient enough to go through the hurdles coming across during and after hospitalization. Moreover, if you have a prolonged stay, then your legs are most likely to weaken because of the bed-ridden condition.
Whether you are going to admit for surgery or prolonged treatment, it is significant to prepare your body to get healthy for recovery. Most of the times, we focus on the recovery process. However, it is crucial that you should make your body active for surgery as well as for fast recovery.
According to NCBI, "If initial nonsurgical treatment of a rotator cuff tear fails, surgical repair is often the next line of treatment. It is evident that a successful outcome after surgical rotator cuff repair is as much dependent on surgical technique as it is on rehabilitation. To this end, rehabilitation protocols have proven challenging to both the orthopedic surgeon and the involved physical therapist."
When we speak of hospitalization, one of the drawbacks is that it leans your muscle mass by one percent each day you lie on the bed. As a result, it increases weakness, which, in turn, increases the risk of sprains and fractures. As we mentioned above, that your legs tend to weaken due to a prolonged hospital stay, it is important to make efforts to strengthen them for fast recovery.
Let us take a look at how you can cope with recovering after hospitalization or precisely surgery.
How to Recover Successfully After Hospital Stay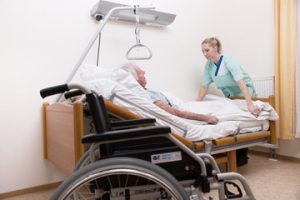 1. Follow Your Doctor's Instructions
It is surprising that often patients follow their doctor's instructions which are convenient to them, and do not follow the others. However, it is crucial that you obey their guidance to have a rapid and accurate recovery. For example, if your doctor says no shower after a particular procedure, then there are good reasons for them. There are many other instructions like not to lift heavy objects, or no swimming, and more. As a patient, it is your responsibility to follow them religiously to avoid further complications and have a fast recovery.
2. Have Follow-Up Appointments
After getting discharged from the hospital, it is crucial to keep your follow-up appointments. Often, when patients start feeling good, and their wound is healing, they think it unnecessary to have further appointments with the concerned doctor. However, doing so is one of their biggest mistakes. These appointments are basically, meant for checking the recovery process and if any complications, to be dealt with right away.
3. Prevent Infection
Preventing infection is one of the easiest and the most significant tasks of a patient during the recovery to have an excellent outcome from the procedure. For this, you should wash your hands before touching the incision. It will prevent germs from penetrating in your skin and worsening the wound.
4. Examine Your Incision
Looking at your wound may not be your favorite thing, but it is important to look at it several times a day. There are a few signs that your doctor will suggest examining to ensure accurate recovery. It will help you determine whether there is an infection in the wound or the surgical area. If you find anything unusual or weird, then immediately consult your doctor.
5. Take Nutritious Diet & Keep Hydrated
After discharge from the hospital after a prolonged stay, it is crucial to take a healthy diet. Eat watery fruits like apples, oranges, strawberries, and others. Also, drink plenty of water, as it helps your blood flowing, and carries oxygen & nutrients to your cells and protects your joints.
6. Get Moving
As soon as you get a green signal from your doctor, start moving your body organs even lying on the bed. You can do plenty of leg and hand movements while lying on a bed or sitting in a chair. Your doctor will recommend you some set of exercises to help you strengthen your legs and prepare you for the time when you can stand independently.
7. Rehabilitation
Mostly, doctors recommend physical therapy or going for a complete rehabilitation plan post surgery or hospitalization. It effectively helps you recover accurately and strengthen your body by all means. Physical therapists exactly know how to deal with your post-surgical conditions and help you achieve your desired goals.
According to Coast Rehab, "No matter how minimally invasive a surgical procedure is, it still causes trauma to your body. While your body is healing, you'll likely experience challenges like pain, inflammation, and swelling. You may also have newfound difficulty with daily tasks like dressing, standing, and walking."
8. Improve Strength
Once you get back to your place post-surgery, you can follow the exercises your physical therapist and doctor has recommended. The most important thing after discharge is to strengthen your legs. Lying on the bed all day for days, weeks, or months is likely to weaken them completely, leaning the muscle mass. Therefore, it is crucial to perform the activities or movements to strengthen the leg and calf muscles.
You can perform light exercises to strengthen the legs. However, make sure you do not overdo them, or else it can set you back in the recovery process. It is advisable that you perform them under the expert guidance to prevent re-injury or a new injury.
9. Cough & Sneeze Carefully
If you have undergone the knife, then it is critical to cough and sneeze carefully. It is because it can harm your wounded skin or the stitches to stretch and tear. For example, if you have an abdominal incision, then you can do some serious harm to wound by coughing and sneezing. For this, you can consult your surgeon and follow their instructions strictly.
10. Stay Connected
While in the hospital, you can stay in touch with your family and friends through your smartphones. Also, make sure to engage yourself in some activity that helps you keep your focus away from pain. Focus on improving your social health. You can read your favorite book, listen to your favorite songs, etc. in this relevance. It will help you keep your mind healthy and diverted.
Going through surgery or hospitalization is never an easy task. However, it is crucial that you do not let the hurdles and challenges affect your recovery. Knowing how to successfully recover after a hospital will help you and love loved ones enjoy a fuller, healthier life.