All of us are aware of the countless health benefits of working out daily. Sticking to a fitness routine not only improves one's mental and physical wellbeing but also boosts immunity which is of utmost importance during the pandemic. Working out is proven to release chemicals called endorphins that trigger a positive feeling in the body and calm feelings of anxiety.
But working out from home comes with its own set of challenges. For those used to hitting the gym or going to the park for a run, transitioning to the new at-home way of life isn't easy. Firstly, the mind is cluttered with things-to-do like work, chores, pets, and kids! Secondly, there's no space or equipment for working out (Well, that's what you think). Also, there are too many distractions like a Netflix episode you want to catch up on or are unable to break free of your home responsibilities. At times, you are simply tired and lack the motivation to work out.
Without a doubt, staying active at home can be tough. Also, there seems no end in sight to the social distancing or self-isolation. But while we wait for the pandemic to end, there's a lot that can be done to stay fit. Setting a home gym, for instance, can help you maintain my super-active lifestyle from home and stay in shape.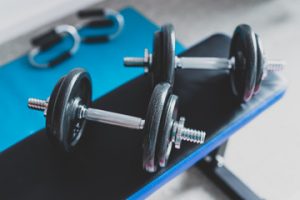 A home gym is a fitting response to all the challenges encountered when working out from home.
A home gym is easy to set up. You only invest in equipment that's needed to take you closer to your fitness goals. That way, your home gym is tailored to your needs.
A dedicated space for working out is enough motivation to stick to a fitness routine.
The gym is always around for you. So, you can sweat it out any time you want.
A home gym eliminates all the time-wasters. Just imagine – you don't have to pack a bag, drive to the gym, and wait for the equipment to be free. It's just plug-and-play as per your convenience.
You can work out and keep safe at home. Unlike in the gym, you don't have to worry about contracting an infection from people who have just used a piece of equipment. Plus, with gyms and sports centers shut during this period, a home gym is the best way to stay fit.
You save on costly gym memberships. You can sign up for an online fitness class, app, or simply follow the work out tutorials shared by top fitness brands and influencers.
There are no rules! No one tells you, 'Don't drop the weights!' or 'No curling in the squat rack!' You will be fine with a few safety basics like workout gloves, weight-lifting ankle tape, and a good-quality rubber surface to work out on.
Once you set up your home gym, nothing can stop you from working up a sweat. This infographic by Rubcorp compiles critical statistics and tips that can help you set up a home gym in no time. You will find valuable advice on the top home gym equipment you should invest in. So, go ahead and create your fitness corner or room and stay active.
Infographic source: Rubcorp