Being unemployed, especially over a long time, can be a challenging thing to process. It is a tough phase that can be mentally exhaustive, leaving you with feelings of helplessness, sadness and unworthiness. Many unemployed people are too engulfed in their plight that they neglect the toils their situation has on their mental health. This article discusses some vital mental health tips for unemployed people.
It's crucial to think about your mental health and how your situation has affected it. Research has shown that unemployment causes stress, which can develop into long-term health effects, including mental health problems such as depression, anxiety, and feeling of low self-esteem and confidence.
For you to care for your mental health, here are some tips you can follow to stay positive during unemployment. 
1. Avoid Isolation and build a social network 
Being unemployed can bring the feeling of shame and unworthiness, which often trigger people to isolate themselves from families, friends and associates. They feel ashamed of their situation and would rather stay alone than socialize for fear of ridicule or embarrassment. It can be challenging, but opening up your feelings and situation to friends and families can foster support. You build social capital and a good network when you meet new people, increasing chances of connection and opportunities. Therefore, instead of isolating, socialize more. Don't neglect your social health during this trying period.
2. Maintain a regular routine 
Maintaining a routine during employment can be challenging, but it is a great way of building a positive mindset and self-esteem. Brooding, staying in bed, not eating regularly and discontinuing your hobbies only worsen the situation and cause distress. Instead, wake yo every day with a positive mindset, devote time to physical exercise and healthy food. Confess positive things about yourself and indulge in your hobbies. Staying firm in your routine helps improve your physical and mental health as well as gives you the feeling you're in control of your life. 
3. Avoid desperation and set a parameter to job searching. 
Understandably, you want to get a job as soon as possible, and the more you search without any good result sets in desperation which isn't good for your mental health. The constant pressure to find a job induces obsession, panic and despair. Therefore, It's important to set parameters by devoting a certain time dedicated to looking for jobs. This will enable you to have other time for yourself to do other things. It's hard being without a job, but it doesn't have to be the end of your life. 
Additionally, the process of job searching can be stressful and nerve-racking. During the job search, it is possible that you'll be met with rejection a few times. Rejection can deplete your self-confidence and cause you to question your abilities. However, you can combat that by replacing the negative feedback with an affirmation of all of your good qualities and crowning accomplishments.
You can also have a list of positive mantras, and recitations to help you stay positive.
4. Dedicate time to workout
Workout has been linked to relieving stress, depression and anxiety and, on the other hand, helps to keep you motivated. It would help if you dedicated ample time to working out and staying in shape to maintain positive spirits. It also helps you socialize and meet people in the gym who can be of help to you. 
5. Volunteer 
First off, there are many mental health benefits of volunteering. Volunteering can give you a sense of purpose, and increase your self-esteem. Volunteering can also relieve stress, and fight the symptoms of depression. As well as having a positive impact on others, volunteering can improve your relationships.
Volunteering when an opportunity arises can be an added advantage to your resume, and more often, volunteers are handed job opportunities. Volunteering also gives you the time to build on your skills and relationships, which help to improve your competence and confidence. So look out for any opportunities to volunteer if the real job isn't forthcoming; it could be a rewarding experience for you.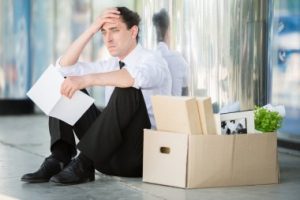 Bottom Line
In a nutshell, know that you have a life to live outside your career and regardless of your employment status. Being unemployed should be seen as an opportunity to better yourself for better and improved opportunities. So, devoting time to your mental wellness can get you on the right path to a new job opportunity.