There have been conversations about working from home, but the coronavirus pandemic has made it become a huge trend. With many being forced to do their jobs from the comfort of their respective homes, working from home has become the new normal. Nonetheless, not many people are used to working from home. Changing your work routine and missing the physical interactions you get with your workmates are some of the challenges that come with working from home.
There are also some mental health challenges that are associated with working from home. For example loneliness, isolation, anxiety, mental fatigue and depression could all set in when you work remotely. Your mental health is important and it will affect your productivity. Thus, you need to be in the best shape mentally while working from home.
Today, you will learn some tips that will help you overcome mental health challenges you are facing due to the latest trend in the workforce. Here are some mental health tips for those working from home.
1. Cultivate self control
Recent research in occupational health psychology has discovered that there are ways frequent self-control acts can have impact on one's mental health and well-being. Self-control has its pros and cons in many aspects of life. All in all, working from home can require a considerable amount of self-control. It's in contrast to the normal work environments, which are set up to engage in work effectively.
Working from home brings about adaptation to new technologies, change in communication forms, and resisting distractions from family members, pets, or mundane household activities.
At home, when the sun is shining outside, you might be demotivated. So overcoming these demands and engaging in work requires self-control. This, in turn, affects your mental energy levels. Create a work schedule and keep to it. Develop a work schedule that will include phases of focused work and your break time.
2. Occasionally detach from work
All you need to do is know the importance of psychological detachment to replenish your vital energy strength.
Such detachment will reduce the negative effects of self-control. This is when you mentally switch off from work during time off. So, take your mind of all work-related thoughts and activities.
It has been observed that those who work from home even spend more hours than those working in the office. Thus, you need to detach from working occasionally to relax and reinvigorate yourself.
3. Dedicated workspace
Have a workspace in your home, devoid of distractions. Your dedicated work space should be comfortable, and allow you to have a good posture while working. Make it as fun as possible, add a sound system and put pictures around.

4. Work routine
Having set up your work schedule, plan, and organize how your routine will go. You can have time for email communication and dedicated times for a response to them as well.
During your routine, you can input coffee time because such activity doesn't require any self-control.
5. Add leisure and exercise time
Squeeze in leisure time into your work and stick to it. As part of your leisure, you can even have a leisure room than in your workspace. Avoid working in your bedroom so that you won't be detached from your sleeping hour.
Movement is a great remedy to combat work-related stress, and you should always try to add short movement breaks as you work from home. As little as five minutes of physical activity can be enough to reduce stress and fatigue.
6. Impromptu goals
Refrain from this habit that makes you not organized about your itinerary. Once you have a deadline for work, pick up from the easiest part of it and move up the ladder.
8. Non-work time
Since you already have an organized schedule divided into work time and non-work time, avoid all forms of work-related communication during non-work time.
9. Engage in non-work related activities at home
To be entirely detached from work during non-work time, engage in absorbing activities like exercise, cooking, mindfulness meditation. This takes your mind away fully from work. Spending time with your friends is great for improving your social health and boosting your mental health. So set out time each week to spend with your friends and family members who lift up your mood.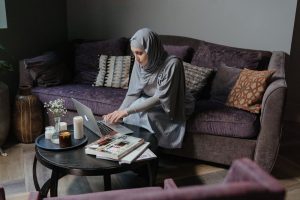 Bottom Line
Working from home has become rampant among the workforce today. It has its challenges, especially on the mental health. Some mental health issues that come from working from home include depression, isolation, anxiety, loneliness, mental fatigue and stress. However, these mental health tips for working from home can help you boost your productivity. If you work from home and spend a lot of time on social media, you can read these article on how to protect your mental health on social media.