In times like today, where everyone is racing to outrun other, we have forgotten the sole purpose of our lives. We have been gifted with such a beautiful human life to be happy, influence others, and make this world a better place to live. In the hustle-bustle of making both ends meet, we have lost the essence of quality life.
A good physical and mental health is what makes life worth living. Hearty body and soul will not only keep us content but will also give us the strength to deal with the hardships of modern life.
The confidence in us comes from the fulfilment of the venture we have always dreamt of and not from just a number on the scale. Fitness is a broad term holding different meanings to various people. For one, it may be climbing the high peaks, for other road trips to the desert, to some pursue modelling while some just want to fulfil their daily responsibilities effectively. The strength required for each task is different, so will be the target goals of fitness.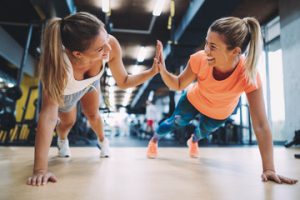 It is important to understand that the fitness of a person is not defined by its appearance but has a whole of meaning to it. The aim is to achieve an apt balance between physical and mental health and not merely perfect inches.
Many fitness institutes have sprung up, which provides several fitness courses, helping the masses to achieve their goals. These courses provide the right piece of knowledge, skills, and abilities to design and perform fitness programs.
The fitness centers are found in every corner of the city with a well-trained and qualified staff, which helps us in achieving our fitness goal. Focusing on both personal and physical development, these health clubs offer a whole range of advanced equipment that involves weight-lifting and cardio machines, dancing and aerobics group classes, as well as yoga and swimming.
The role of personal trainers to achieve fitness goals is invaluable. With expertise gained during the fitness training courses, they can design a personalized training plan while keeping in mind the requirement and fitness goals of an individual. They demonstrate the correct posture and technique to perform the exercise to the clients so that they can meet their utmost fitness goals. Besides, their presence reduces the risk of injuries while performing physical tasks.
Well, we all know that fitness basically starts in the kitchen. A balanced diet, including all the nutrients that are in the right portions is extremely important for the fitness regime. Diet is not only required when one is trying to achieve the target but also in maintaining the physical health one has attained.
The vast knowledge of Nutrition and Diet is important in leading a healthy life. The nutrition courses enable the qualified personal instructor not only to plan an elaborated diet for the clients with fitness targets but also for sportsmen preparing themselves for championships.
The advantages of fitness are not just restricted to weight management. Besides obesity, exercise helps in the prevention and cure of many diseases. Regular physical activities reduce the risk of cardiovascular diseases by maintaining cholesterol levels. It is also beneficial to patients who are under recovery from severe diseases like breast cancer and ovarian cyst. The problem of arthritis can be combated with exercise as it improves endurance, increases flexibility, decreases pain, and reduces stiffness.
Mental and emotional well-being also form a part of the fitness regime. Our body can achieve anything if our mind believes in it. Psychological health can be attained by following spiritual activities such as yoga and meditation.
Moreover, people today are vigorously participating in yoga in order to strength their physical as well as mental well-being. Yoga is an ancient study, teaches to create the perfect balance between body and mind. With meditation, we can have control over our emotions, which help us cope up with strenuous life.
The lack of motivation, fear, and doubt can hamper the fitness drive. One need not lose their heart if it is taking a bit longer to achieve the goal. The body is not an online shopping site which shows up in two days. We should not be afraid of moving slowly but standing still.
An adequate amount of sleep is the key to a healthy body and mind. We should not push ourselves off limits. Giving our mind rest is important for both physical and mental health. Research has shown that consistent exercises enhance our sleep and fights insomnia in the best way. The fitness courses provide qualifications and skills in dealing with basic health issues.
Fitness affects the social life of an individual in a great way. Exercise releases good chemicals in our brain, making us happy and lifting your mood. Regular physical activities bring us in shape, improving our self-image, which results in the increased self-confidence.
It is equally important to maintain a social network and a physically active lifestyle as one gets older with time. By merging these lives, one can get their exercise while hanging out with their favorite people. We can join classes together for dance, yoga, aerobics; form sports league; join walk group and same fitness centers.
Those who want self-improvement as well as are passionate to help others to achieve their fitness goals can join the fitness certification courses in India which assures potential aspirants, the foundation needed in their day to day to walk as a personal trainer.
Fitness provides substantial career opportunities, as well. The fitness industry has grown with the passage of time from being small gyms with naïve supervisors to colossal wellness centers with highly qualified and well-trained personnel.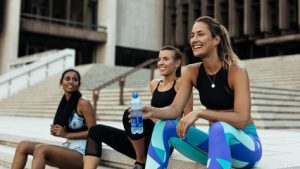 With fitness instructor courses, they not only provide self-awareness and personal development but also put their passion to work. It provides occupation and offers professional growth as well.
The power of fitness is far beyond just acquiring perfect body shape covering vast fields from bursting stress to providing scope in career fields. It not only prevents the body from diseases but also provides strength. It touches physical, mental and social health aspects of our lives guiding us to the path of wellness and healthy livelihood.
Be fit. Be feisty. Be Fantastic.
About the Author:
Neelabh Khatri, Graduate in Commerce; ACE PT, Nutrition, Boot Camp & Rehab Certified Professional with more than four years of experience in Fitness Industry. He started his career as a personal trainer. Climbing up the ladder, he moved to the role of transformation specialist and faculty. He is currently working as a content developer for Fitness Matters Academy for new courses.