Not everyone relishes the thought to doing chores, while some people find certain household chores too difficult or tiring. Nonetheless, doing household chores are important to maintain a clean and hygienic home. However, there are many other ways you can benefit when you do your chores. This article will discuss the health benefits of doing household chores.
House chores like washing the dishes, vacuuming the floor, cooking, or doing laundry are good to many aspects of your health. Even though they help burn calories, they offer different other health benefits.
7 Health Benefits Of Doing Household Chores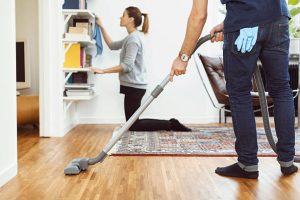 Below are the significant household chores and the health benefits you can derive from doing them.
1.

Washing Dishes
Studies have proved that those who wash dishes regularly have a 30% reduction in nervousness, which translates to better mental health.  
Washing dishes involves you concentrating on the plates and removing the stains. In this way, your mind is focused, which helps you to be calm and relaxed as you concentrate on the dishes, the temperature of the water, and the smell of the dish soap.
However, it is one of the most avoided house chores, especially among teens.
2.

Vacuuming
Vacuuming is considered an exercise, and you tend to get a good result when you vacuum the house all at once instead of taking breaks in between.
Vacuuming simply illustrates the idea of using a stone to kill two birds. Here, you get to remove the dirt in the house while toning your legs and arms and burning calories.
3.

Cleaning the Bathroom
Cleaning the bathroom requires strength and energy as it requires washing, scrubbing the floor, and wiping. In addition that it helps you to burn calories, and it also helps to strengthen your immune system because you are getting rid of germs, bacteria, or mold that could have infected you. Cleaning the toilet can also keep your home healthy and hygienic.
4.

Making the Bed
Research has shown that those who make their beds every morning before stepping out of the house tend to have a higher productivity level than those who don't make the bed is one step of building motivation for the day.
Making the bed can also stimulate you to clean up your room, hence, your room will look and smell better. With this in mind, you can keep your bedding and laundry smelling fresh and at their best with home cleaning products from The Laundress.
5.

Cooking
Cooking goes beyond just preparing food for yourself or your family; it has many health benefits.
Many people have used cooking as a therapy to de-stress and unwind after  work. Also, cooking helps to kill boredom and reduces the rate of anxiety and insomnia. Also, when you cook, and it comes out well, you tend to be happier, which is essential to total well-being.
6.

Cleaning the Kitchen
Studies have proved that those whose kitchen is dirty and clustered have a high tendency to eat unhealthily. Cleaning up the kitchen helps you to de-stress and gives you inner happiness.
Also, you tend to eat in a healthier and safer environment. Also, pets or germs don't get to contaminate your raw or cooked food in the kitchen.
7.

Gardening
Studies have shown that those who engage in gardening often have a reduced risk of depression. Plus, they are happier and eat healthier. There are so many other physical and mental benefits of gardening.
Other Health Benefits of Doing Household Chores
Other health benefits of doing house chores are:
Household chores aid in keeping and making the house clean and germs-free, making the house safer and creating a better atmosphere for rest and sleep. Your health improves better when you sleep and rest well.
Cleaning or decluttering your wardrobe or closet is one of the best ways to keep your house smelling good.
Household activities such as disinfecting the surfaces at home help to keep the surface from bacteria and viral or fungal infections that might cause contamination.
Doing high-intensity house chores like vacuuming, scrubbing, sweeping, or mopping helps to reduce your risk of cardiovascular disease.
House chores such as carpet cleaning and dusting the house help prevent dust accumulation, reducing the risk of asthma attacks for asthmatic patients and dust allergies.
Conclusion
Even though household chores can seem challenging or stressful, keep in mind that you are helping your overall health and wellbeing when you do them.
Families that do house chores together tend to have stronger bonds and love. The health benefits of doing household chores are all-encompassing, touching all aspects of your health.