Healthy eating can revolutionize your life. It fills your body with a handful of important vitamins, minerals, and nutrients that can help you beyond weight loss. It is linked to many health benefits that help you to stay fit and in shape with good mood or energy levels.
That being said, we understand that it is not easy to eat only healthy food. It takes a lot of dedication and sacrifices to give up on your favourite foods and tastes that, mostly include junk and high-calorie or high-carb foods. 
People eat fresh and healthy meals because they want to shed extra kilos to achieve, while others are indulged in giving a natural boost to their immune system.
For some people, a certain diet plan is being followed because this way, they can help the animals or support the environment.
There are many reasons for following a particular diet. You must have heard of Mediterranean, paleo, ketogenic, and many more modern diet plans which work differently for different people and goals.  
Of all the different diet plans, we today will be discussing the most natural, popular, and the ones which have been the subject of debate for too long because of their uncanny resemblance – Vegetarian and Vegan Diets. 
If you want to decide which diet plan is better out of these two, you're at the right place because this whole article has little something of your benefit.
Without further ado, let's get straight into the article!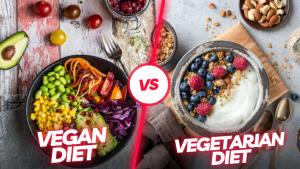 What is a Vegan Diet?
A vegan, also known as plant-based diet, is a practice of cutting down on every food item that are not directly the source of the plant. This diet is entirely plant-driven and includes
Fruits

Legumes

Pulses

Seeds

Whole grain flour

Plant-based milk (almond milk, oat milk, etc.)
This diet is considered to be a practice of focusing on gathering all the nutrition mostly or entirely from plants. No animal products are allowed to be consumed in a plant-based diet.
In comparison, many people mess up with this basic concept of a vegan diet with semi-vegetarian and include some amount of animal products such as meat and fish. 
While following a vegan diet, you are not supposed to eat anything that does not come directly from a plant, including dairy, fried foods, vegan snacks which are not plant-based or healthy, baked goods, or any food with excessive sugar and salt, mostly found in processed foods. 
Benefits Of A Vegan Diet
Your body naturally feels better when you cut down on processed food and indulge in only plant-based food. They are a great source of nutrition that your body needs to maintain overall well-being.
Here are some of the many good changes that you will experience after following a vegan diet:
Help you effectively fight off inflammation and neutralizes its effect on your body.
Promote speedy weight loss as you've removed processed food from your diet which is a major reason behind weight gain due to being high in calories.
Boost your gut health so that you stay protected from any disease or viruses.
It reduces the risk of many chronic diseases.
Eating fibre-enriched plant-based food helps to keep you full for a longer period and avoid overeating.
As this diet reduces harm to an animal, therefore it is beneficial not just for you but the animals and the planet as a whole.
What Is A Vegetarian Diet?
Talking about vegetarian diet, well, of course, it is less restrictive and allows some form of animal products i.e. dairy.
While completely abstaining from beef, poultry, fish, eggs, or any sort of product including animal flesh. It basically constitutes plant-based food and dairy products.
Although many westerners believe that since eggs don't contain any trace of animal flesh, they are technically vegetarian.
On the contrary, easterners don't, particularly in India. Given below are the food items which are allowed in a Vegetarian Diet:
Fruits

Vegetables

Legumes

Grains

Nuts & Seeds

Honey

Dairy Products

Herbs & Spices.
Benefits Of A Vegetarian Diet
There are numerous amazing health benefits of a vegetarian diet. However, if you are eating processed food in the name of a vegetarian diet, it is very unlikely that you will get any of the health advantages mentioned below:
It helps to manage weight

It reduces the risk of foodborne illnesses, which is extremely common in poultry, fish, seafood, etc.

It strengthens the immune system if you include immunity-boosting food in your diet

It gives glow to the skin when you include vitamin C-enriched fruits and veggies combined with proper hydration

It improves digestion

Buying produce from locals helps support the local community as a whole.
Final Thoughts:
To conclude, both vegetarian and vegan diets are appropriate for living a healthy and disease-free life and may contain more benefits than we have actually discussed in this article. It's difficult to say which is better as there's a lot to take into account.
However, when it comes to more nutrition, we would suggest you not stick to a vegan diet in the long run and keep switching to vegetarian so that you don't lack protein, calcium, and vitamin B12, which dairy products constitute. Both diets are quite the same yet different at the same time; it totally depends upon your requirements and how you execute to take the maximum nutrition out of them. It's better if you are mostly on a plant-based diet which is similar in both diets.
Ultimately, the best diet is the one that supports your health the most, does not let you miss out on important nutrients altogether, and of course, the one you enjoy the most. In the end, it is important to take a balanced diet regardless of your dietary choices. So, keep it balanced!
Disclaimer: The diet you choose depends upon the lifestyle you want and your health concerns. It is advised to consult with a doctor before choosing any diet that may include the risk of nutrition deficiencies to be on the safer side.
Author Bio- 
I am Rashi, a creative content creator associated with OMKITCHEN, a brand of More Orgo Private Limited. I am a Graduate of Amity University with a Journalism and Mass Communication degree which gives me broader ways of approaching a topic. I am a strategic thinker who has expertise in writing about organic food and cold-pressed juices. In my free time, you will find me either eating food or grocery shopping. Follow her on Facebook  and Instagram.