If you want to go on a fad diet, you're spoiled for choice. The real question is whether you can actually stick with a particular fad diet for the long haul. As promising as some of those diets may seem, they usually fail because people simply can't stick with them. That's not because people are weak; it's because many of these diets are simply impractical. A much better way to approach the whole dieting situation is by eliminating certain foods from your diet for good. When you think about it, people have to cut foods from their diet all the time, so it's definitely doable.
By eliminating at least a few of the following foods from your diet, you should be able to lose weight fast and maintain a healthy, safe diet. Of course, it all depends on how often you enjoy these foods, so cut out the foods that you enjoy on a regular basis.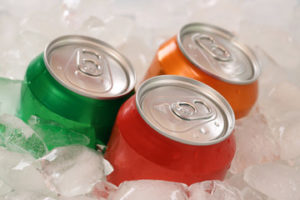 1. Candy 
This may seem obvious, but you'd be amazed by how many people treat themselves to candy when paying for gas or buying groceries. Sure, candy is yummy. No one is going to deny that. However, it's packed with empty calories that can derail even the healthiest diet. It can also wreak havoc on your teeth, so kick your candy habit right away if you have one.
2. Fried Foods
Everyone loves a nice piece of fried chicken or a big plate of french fries. However, such foods are soaked with oil and loaded with calories. When you actually make a concerted effort to avoid fried foods, you'll be amazed by how many alternatives there actually are.
3. Soda
It's easy to feel guilty about drinking soda. Like many people, you probably keep doing it anyway. Don't be ashamed. Soda is everywhere, and it's offered to you at every turn. However, you can take steps to resist the temptation to indulge. Carry a water bottle with you at all times and start drinking hot tea instead. Soon enough, you'll no longer miss those diet or regular sodas at all.
4. White Bread
If you were raised on white bread, eliminating it from your diet is easier said than done. Whole-wheat bread tastes strange to people who aren't used to it, but it's considerably healthier. Although it may taste weird to you at first, make a point of strictly buying and eating whole-wheat bread. You will shave considerable amounts of empty calories from your diet.
5. Alcohol
We all know at least one person who quit drinking beer and shed considerable amounts of weight. Your results may not be quite as dramatic, but eliminating alcohol from the diet can have some pretty exciting benefits. You don't even have to drink it too often to see positive changes.
6. Fast Food
We all know that fast food isn't good for us, but it's so tempting after a long, hard day at work. That's why you should take steps to make it easier and more convenient to eat at home. Make a large meal at least one time per week and save the leftovers for subsequent meals. Take turns cooking dinner with your partner. Make a meal plan at the beginning of the week and go to the store to buy everything you need.
7. Ice Cream
Ice cream isn't something that should be a regular part of anyone's diet. Is it tasty? Sure. Is it convenient? Absolutely. Is it good for you? Absolutely not. Even the so-called diet ice creams are loaded with calories. Regular ice cream is bursting with fat too. Make a point of never keeping ice cream in the home. Enjoy it occasionally at local ice cream parlours.
8. Processed Foods
Try to eliminate foods from your diet that require little or no preparation. They are most likely processed foods, which mean they are high in fat, sodium and calories. Once again, try to make large meals and save the leftovers. This simple step will help you avoid a lot of unnecessary calories.
9. Condiments and Sauces
Nothing can ruin an otherwise healthy meal quite like a big glob of ranch. Condiments have a surprising amount of calories, so use them sparingly. It may be difficult at first, but you'll eventually get used to using very small amounts of sauce and condiments on your food.
10. Potato Chips
They may be yummy, but they are filled with calories, fat and sodium. Swap them out for baby carrots and other healthy snacks instead.
The most important thing
Don't forget to drink 4 to 5 litres of water every day. Drinking plenty of water helps to flush your body of the toxins that can hinder weight loss.
Whether you implement one or all of these tips, they are sure to help you get the ball rolling on a healthier, happier way of life.
To lose weight fast, you don't just need to cut these foods from your diet. You also need to exercise and eat a healthy diet. I recommend you sign up for the FitPlus Fit + Weight loss Program.
The Fit + weight loss program was created by a team of proven nutritional and fitness experts. The program provides you with strategies to help lose weight through healthy dieting and brisk exercise. Sign up for them HERE.
Use the coupon code YMGH to get 20% off!
Author Bio: 
Cara Smith is a blogger cum editor and lifestyle coach. She works for an HIV Testing company as an online marketing manager. When she is not working, she loves to travel and spend time with her friends.
Follow her on Twitter